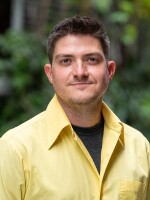 Justin Hicks
Data Reporter
New data from the 2020 Census was released last week with detailed information about people's age, sex, race, and the kind of households they live in. Researchers say the information is important to help lawmakers tailor effective policies.

Thousands of voters are heading to the polls for the Kentucky primary election Tuesday. But low turnouts are expected in this year's primary, which boasts a contentious Republican gubernatorial race.

A walkthrough for how KyCIR analyzed tens of thousands of pieces of data for its investigation on debris after the 2022 eastern Kentucky floods.

An investigation by the Kentucky Center for Investigative Reporting found failures in the state and federal government's attempt to clean up debris and dangerous materials left by catastrophic flooding in July 2022.

Residents and some Letcher County officials say FEMA's strict regulations about debris removal and infrastructure repair have left large piles of debris and unfinished work throughout Appalachian eastern Kentucky and may have contributed to the damage last weekend.

LPM's 2023 'Fish Frynder' is a reely big deal. Use our map to find out when your favorite Catholic fish fry is open or discover a new one.

Researchers found that rezoning decisions in Louisville can be skewed when people in poorer areas can't come to public hearings to voice their opinion on changes.

Christmas has come and gone, but the Kentucky Department of Fish and Wildlife Resources wants your Christmas tree to create fish habitats. Here's how you can donate your tree to end up in one of 19 lakes across the state.

An arctic blast arrived Thursday night, bringing subzero temperatures and several inches of snow. State officials say the storm isn't over.

Several seniors in Charlestown, Ind. got a pleasant surprise Wednesday when they opened their doors to find Santa. But the real Santas were their neighbors, who bought gifts and anonymously had them delivered.