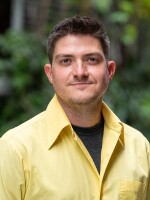 Justin Hicks
Data Reporter
For decades, miners have called for limits on highly toxic silica dust, which they're exposed to while mining. An investigation shows its impact and the weakness of proposed rules to protect them.

Many Kentucky residents may have to vote somewhere new in this year's elections. That's because dozens of counties have consolidated polling places — a move that's raised concerns about ballot access.

The once-thriving city of South Park View was demolished by the airport roughly 20 years ago. But it still lives on in Kentucky's registry of cities. Now, it's finally being put to rest.

Nearly half of all Louisville residents live in areas where they have to arrange services like trash pickup household by household. They pay lower taxes, but some are still looking for ways to get their services consolidated, similar to what other people in the city have.

Reporters from across Kentucky Public Radio's network profiled each of this year's races so readers and listeners across the commonwealth are fully informed when they go to ballot box on Nov. 7.

An entire city in Jefferson County is slated to disappear, thanks to a relatively new Kentucky law. The municipality of Poplar Hills went defunct years ago and now the state is trying to get rid of it and other so-called "ghost cities."

New data shows that more than 1,500 miners have been diagnosed with a deadly lung disease linked to toxic silica dust found in coal mines — and Kentucky clinics may be seeing the most cases. After years of inaction, federal mine regulators are finally proposing to crack down on silica dust exposure, but will it be enough?

After a snafu with bussing caused schools to be delayed more than a week, WFPL's education reporter Jess Clark and data reporter Justin Hicks picked a random JCPS bus schedule and tried to complete it.

Mine advocates and companies commented in Washington, D.C. this week, expressing lots of different concerns. If passed, the new rules would attempt to keep mine workers, including coal miners in Kentucky, safer while they work.

Kentucky officials defended the state-managed cleanup of eastern Kentucky's devastating flooding during a legislative meeting on Tuesday, and largely avoided addressing miscommunication and ballooning costs that have taken place during the process.