UPDATE: All JCPS students are back in school Monday after first-day bus debacle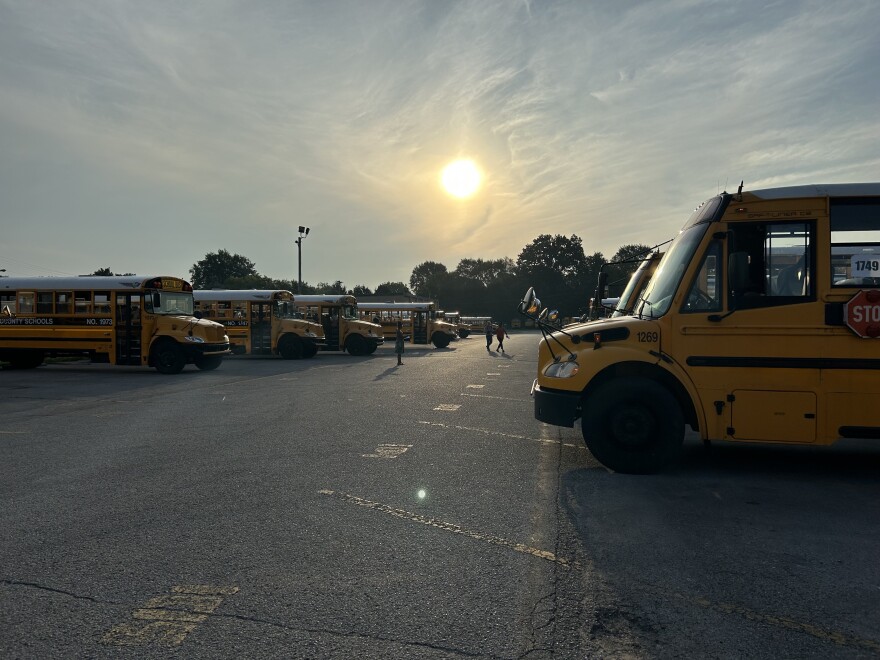 Jefferson County Public Schools brought all students back to the classroom Monday, after a transportation meltdown forced the district to cancel school for more than a week.
Monday was the first day since the bus fiasco on Aug. 9 that all levels of JCPS students were back in the mix. The district brought elementary and middle schoolers back Friday.
JCPS staff who spoke to LPM News say the commute is going more smoothly than last Wednesday, but students are still experiencing long, crowded rides and significant delays.
Detrick and Nichols Bus Compound, 8:15 a.m.
The Detrick and Nichols Bus Compound swarmed with middle and high school students Monday morning, as a couple hundred kids descended from their first bus and traipsed through the parking lot to find their second.
Many students knew exactly where to go, while others anxiously sought out one of about a dozen JCPS staff members for help.
A handful of kids from Conway Middle School weren't supposed to be there at all. They were scheduled to be at the compound for the earlier change around 7:00 a.m., an administrator told them.
"That's ok. We'll make it work," she said.
The kids weren't sure how they got off track.
"I asked him [the driver] if we were going to Conway, and he said, 'yeah,'" a student explained.
The administrator told them to check in with school staff to make sure they get the correct stop information, and got them onto an extra bus the compound keeps on hand now for such situations.
A few parking spaces over from the Conway students, JCPS bus driver Rodrick Thornton was calling through his open window to another driver, sounding off about how full their buses were.
Both vehicles were three to a seat with middle school and high school kids, the legal limit.
"How it is now — they ain't going to be able to do this all the time," Thornton said, noting that he's supposed to have even more kids aboard, but many didn't show up this morning.
Thornton said getting more new, larger buses would help. The new buses can fit 80 students, Thornton said. They also have air conditioning — a welcome upgrade considering the heat wave predicted to hit Louisville this week.
Asked how the district is planning for the heat wave Monday, JCPS spokesperson Mark Hebert said students are being advised to fill their water bottles ahead of their commutes, and that water will be passed out to students at bus compounds and depots if they need it.
"It's August," Hebert said. "This is not the first time that there's been a lot of heat."
Hebert said the morning was going "fairly smoothly," with one bus delayed due to an interaction with a parent.
Three "minor" bus accidents had also set things back, Hebert said. No students or drivers were injured, he said.
JCPS bus driver Misty Meredith agreed that so far Monday morning was going better than the first day of school. She and other drivers have had more time to learn their routes, even practicing extra in their own cars on their personal time.
"We don't get paid for it, we just do it because we want to know the route," she said.
But ultimately, Meredith said the routes will need to change. The extra practice, promised access to GPS and other logistical improvements "will help," she said.
"But I still think we need to shorten these routes somehow," she said.
At the wave of the compound manager, the fully loaded buses pulled out of their parking spaces one by one into the stream of traffic, like a team of synchronized swimmers.
Waggener High School, 9:10 a.m.
At Waggener High School in St. Matthews, principal Sarah Hitchings greeted the students on the last bus.
The bell rang 30 minutes prior, at 8:40 a.m., but Hitchings said students were missing less class than they were on the first day of school. She sent them into the building, where students who are on free or reduced-price meals could grab their breakfast and take it with them to catch the last 10 minutes of first period.
"Just the fact that here on Day 1, take 2, we have almost our entire fleet in in first period is definitely a win," she said.
Despite thenow-infamous issues with this year's transportation plan, Hitchings said it's an improvement from last year for her school, when the bus driver shortage meant several bus loads of students were consistently an hour late every day.
"Last year, we had a couple bus loads of students missing the entire first period the whole year long," she said. Those students also had to wait an hour after school to catch a bus home.
Waggener High School parking lot, 9:30 a.m.
The morning commute was over for Waggener students, but not for the elementary students waiting on buses in the Waggener parking lot for their change. Waggener serves as a depot for elementary school students who have to change from one bus to another to finish their morning commute.
A handful of staff from JCPS central office helped the small children decide which of the other four buses in the parking lot was their next leg. One bus that was supposed to be there was still 45 minutes out, one staff member said.
The buses left at about 9:35 a.m. for schools including Perry Elementary and Lincoln Performing Arts School, both of which have 9:40 a.m. start times.
7:48 pm
In an email, JCPS district spokesperson Carolyn Callahan said all JCPS students had been dropped off by 7:48 p.m., about the same time as the last drop on Friday and hours better than Wednesday's 9:58 p.m. final drop-off.
The email included a statement from JCPS Superintendent Marty Pollio, saying he was proud of staff "who hustled to make sure every child safely arrived at school and got to their bus stops home."
"While there were some hiccups, just as there are during the first week of school each year, I'm proud of the dedication of our JCPS team."
He also thanked families for their "continuing patience" as the district works through its transportation issues.
There were five accidents involving JCPS buses on the first day with all students back, Callahan confirmed, with no injuries reported. While fender-benders are not uncommon given the large number of buses on the road, five accidents in a day is unusual.
This story was updated with additional information.
Support for this story was provided in part by the Jewish Heritage Fund.