Louisville Metro Council approves 2024 budget with new funding for parks, public safety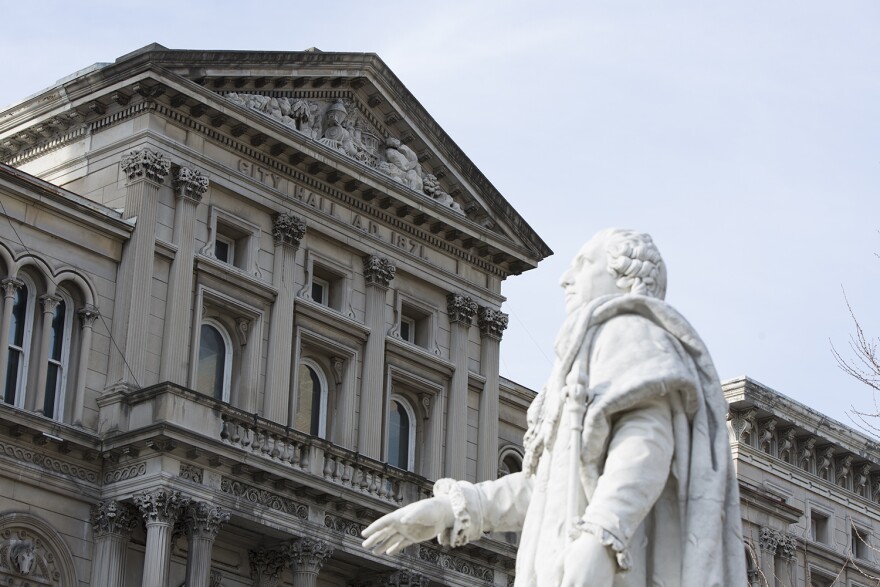 Additional money will flow to public parks, road repaving and public safety initiatives in Louisville starting July 1.
Metro Council approved a $1.1 billion spending plan for fiscal year 2024 at its meeting Thursday night, the culmination of months of hearings and collaboration between the body and Mayor Craig Greenberg. This was the first budget proposed by Greenberg, who took office at the start of the year. It focused primarily on trying to decrease violent crime by investing in public resources, like parks and community center programming, as well as increasing funding for the Louisville Metro Police Department.
Following the vote, Greenberg said he believes next year's budget serves as "a real roadmap for building a safer, stronger, and healthier Louisville."
"With this budget passing with such strong support, it's time to get to work," Greenberg said in a statement. "I have high expectations for our administration and our city and, together with the entire team at Metro Government, I believe we will deliver real positive change for our city."
The 2024 budget includes a 2% increase for LMPD as well as additional spending on road repaving, alleyway improvements and bridge repairs.
Metro Council President Markus Winkler, a Democrat representing District 17, said he was proud of how open the dialogue had been between Metro Council and the new mayor. He said the final budget balanced Louisville's infrastructure needs and public safety goals.
"I think that there is something to like for everyone in every corner of the county," Winkler said. "Public safety, infrastructure, parks, there are record investments across our community."
District 11 Council Member Kevin Kramer, a Republican who serves as vice chair of the Budget Committee, also said he was happy with the final product, particularly the increased investments in road repaving. For years, Kramer has pushed to see more Metro dollars spent outside of the urban core. His district, in southeast Louisville, is largely suburban.
"For the past several budgets it didn't feel like there was any attention outside of [Interstate] 264," he said. "If you look at this budget, there is."
Metro Council members added $4 million to Greenberg's proposed $26 million for road repaving. They also set aside nearly $5 million for deferred maintenance needs at public parks, $3 million for Goodwill's planned West End "opportunity campus" and another $3 million in additional funding for renovations to the Algonquin and Camp Taylor public pools.
The additional spending by Metro Council was buoyed by an updated revenue forecast by budget officials who projected roughly $6 million in additional property and payroll tax receipts in the upcoming year. Council members also cut millions from Greenberg's proposal, including $6 million in subsidies for grocery stores to move into food deserts and $5 million in funding for downtown revitalization.
The budget approved by Metro Council on Thursday also acknowledges the city's affordable housing crisis. A 2019 assessment found the city has an unmet need of 31,000 units that would be affordable for its poorest residents, estimated to cost $3.5 billion.
Louisville Metro will contribute $15 million to the city's affordable housing trust fund in 2024, alongside $2 million worth of incentives for affordable housing preservation. That's more than the $10 million annually the city has set aside for the trust fund over the past three years.
Greenberg promised on the campaign trail to build 15,000 new affordable housing units during his first four years in office. He recently told the Courier-Journal he expects to release a plan for how to get there "this summer."
Other budget priorities include:
Roughly $500,000 to create a new Department of Records Compliance and hire five staff focused on responding to public records requests
$5.3 million for the Louisville Zoo, flat compared to last year
$1.35 million for a second location for The Spot, a young adult opportunity campus
$1.7 million for the Community Ambassador Program, an increase of nearly $1 million
$300,000 in new funding for homeless outreach services outside of the Watterson Expressway
And funding for two new positions in the Department of Public Health and Wellness to manage the Lead-Safe Housing Registry, which goes into effect next December
"A safer, stronger, and healthier city"
When Greenberg proposed his budget to Metro Council in April, he said his focus was tackling the city's violent crime crisis.
Since 2020, Louisville has seen a spike in gun violence. Homicides and non-fatal shootings are up about 6% compared to this time last year — 78 killings and 208 other shootings, according to the latest report from LMPD.
The police department's $220 million budget next year will include $1 million to contract with an outside hiring firm to boost recruitment. LMPD is currently short nearly 300 officers, officials say. He also proposed additional funding for the city's Group Violence Intervention program and LMPD's community outreach initiatives.
Along with that, Greenberg also urged Metro Council to approve his proposed investments in expanding programming and weekend hours at community centers and the Newburg library, as well as $500,000 in new funding for services for people reentering society after being in jail. He said these initiatives were also part of the city's broader public safety efforts.
"These are strategies worth investing in because they will redirect more people away from the path that too often leads to crime and violence and tragedy — and provide more hope and opportunity for our young people," Greenberg told council members in April.
Almost all of the increased spending Greenberg couched in public safety terms was approved by Metro Council Thursday night. That includes an additional $500,000 in funding for Louisville's 911 deflection program, which allows non-police professionals to respond to calls for service when it's believed someone is suffering from a mental health crisis.
Correction: A previous version of this story included incorrect shooting and homicide figures.