Senate passes bill overhauling selection process for top Ky. education officials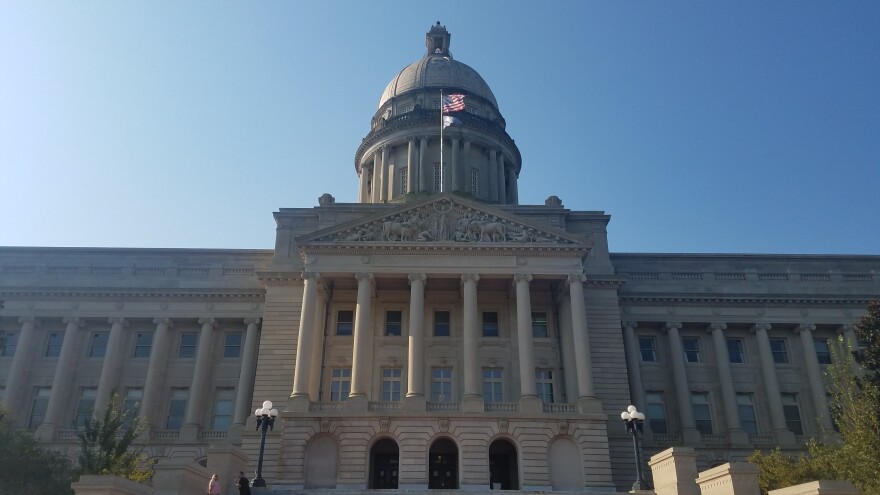 The Kentucky Senate passed a bill Thursday that would change the way Kentucky's top education officials are selected.
Republican Sen. Mike Wilson of Bowling Green, who sponsored the bill, told his colleagues the measure "removes politics" from the state board of education.
"We're just trying to make sure to balance that board in a way to where that there can be bipartisanship and cooperation," Wilson said on the Senate floor Thursday.
In committee last week, Wilson said he's seen the governor's office use the 11-member board "as if it belongs to him," under "three different administrations."
"When we look at the constitution, who has the responsibility for education in the state, it is the General Assembly. We are charged with that," Wilson said then.
The Kentucky Department of Education (KDE), its board and the Kentucky Commissioner of Education have become entangled in partisan battles in recent years. In his first act as governor in 2019, Democrat Andy Beshear ousted all 11 members of the board appointed by his Republican predecessor Matt Bevin. That prompted the GOP-led General Assembly topass legislation in 2021 that took away the governor's power to reorganize the board and required that appointments include members of both major political parties, relatively equal numbers of men and women, and proportional representation of racial minorities.
Wilson said his proposal goes a step further and creates a nominating committee, removing board appointments another degree away from the governor's control. Under the measure, the governor would appoint seven members to the nominating committee — one from each Kentucky Supreme Court district. The committee itself would be required to have members from both major political parties. It would then present to the governor three potential candidates for each board vacancy.
The measure also gives the General Assembly more control over the appointment of the Kentucky Commissioner of Education. Wilson's measure requires the commissioner to be approved by the Senate.
"I think you are intentionally politicizing a process that should, as much as possible, be apolitical," Jefferson County Democratic Sen. Karen Berg said, contrary to GOP assertions.
Sen. Reggie Thomas, another Democrat who voted 'no,' said the measure was "nothing more than another attempt to get at the governor."
Partisan attacks on the KDE and its top official have intensified ahead of this year's gubernatorial race.
Republican hopeful Kelly Craft vowed to "dismantle" the KDE in her first act as governor.
Kentucky Education Commissioner Jason Glass has become the subject of attacks from the right over guidance the department has released promoting LGBTQ-inclusive policies in schools. Those policies are something Craft and other conservatives are referring to as a "woke agenda."
The bill goes to the House for further consideration.
Support for this story was provided in part by theJewish Heritage Fund.