Addiction recovery group expands footprint with New Albany location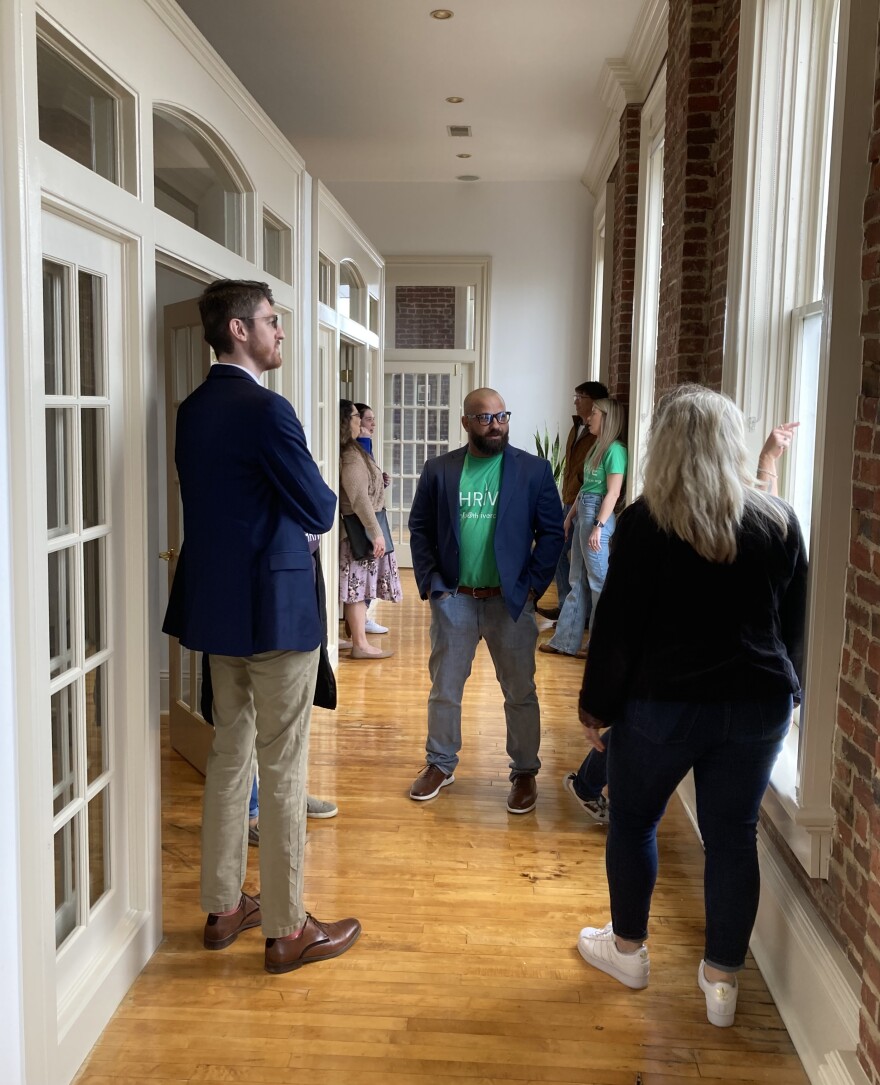 THRIVE RCO, a recovery community organization, offers peer support for people in 21 Indiana counties.
The two-story space at 115 E. Market St. in New Albany has exposed brick, polished wood floors and big windows for plenty of light.
THRIVE RCO [Recovery Community Organization], a substance use peer recovery group, celebrated the opening of its new location in the building Friday. Director Phil Stucky said it's meant to be a warm and inviting place for people to talk with peer recovery coaches and get resources as they travel their path to wellness.
"Recovery is no longer done in basements," Stucky said. "Recovery can happen in amazing, beautiful spaces."
THRIVE started in 2017 in Scott County, in response to the opioid crisis and HIV outbreak in 2015. It now oversees 21 counties and provides free, 24-hour peer support.
The group currently has partnerships with six Indiana jails, including Scott County, to help people with resources for re-entry into the community. It also helps with peer support after an overdose.
"We are not second class citizens, we are people that have a disease," Stucky said. "Our support systems, our care, our treatment shouldn't look worse, or be watered down to be less than anyone else's."
In 2020, Stucky said THRIVE helped around 1,500 people across the 21 counties it serves. Coaches sometimes meet with people out in the community, but Stucky said having the additional space will bolster that.
"It's a game changer," he said. "You actually have a space where people can come and feel safe … and come and meet with our coaches."
Dozens of people attended the open house Friday, many from the recovery community.
Lindsey Goldman was among them — she's been staying at a recovery home in Harrison County for about seven months. She said residents there have access to a peer recovery coach from THRIVE, who assists with rides, appointments, and other resources to help them succeed.
Goldman said it takes willingness to get on the path to sobriety, but there are plenty of people out there who can help.
"I know it's hard to stop, but there's always another way," she said. "There is a different way you can live and it works. I'm living proof of that."
For more information, email gethelp@thriverco.org or call 502-576-9000.
THRIVE's Scott County location is at 396 W. McClain St. in Scottsburg.
Coverage of Southern Indiana is funded, in part, by Samtec, Inc. and the Hazel & Walter T. Bales Foundation.