More than 80 JCPS bus drivers call in sick after threatened 'sickout'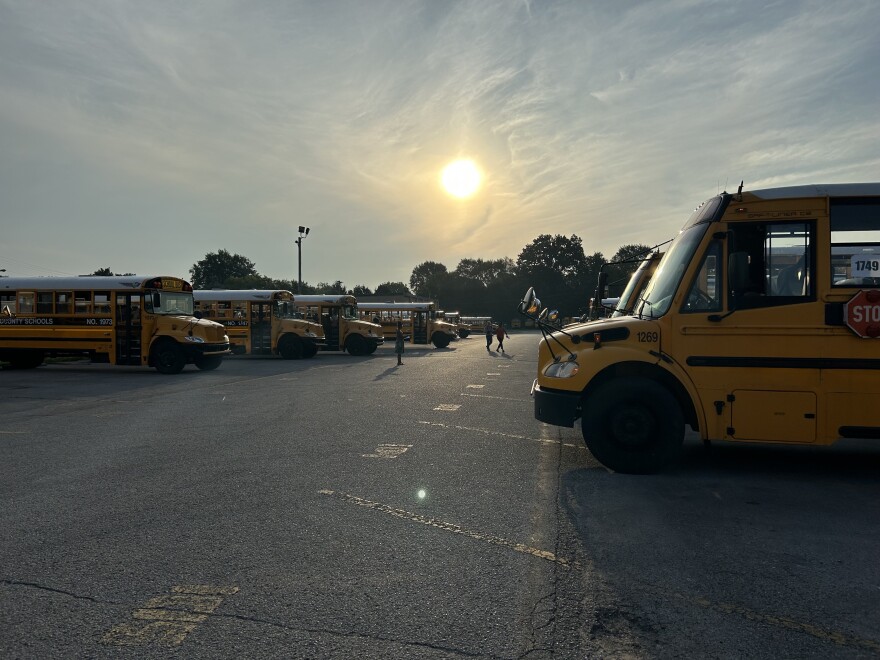 Eighty-seven Jefferson County Public Schools bus drivers called in sick Friday morning.
The wave of absences follows days of rumors circulating online about a loosely organized "sickout" among drivers to protest working conditions.
It means an already strapped transportation system is down 15% of its drivers.
Drivers who spoke with LPM News anonymously said they're concerned about student behavior, long hours and continued overcrowding on buses. Some drivers are also angry that the district added extra work days for them, due to the transportation debacle at the beginning of the year.
JCPS Chief Communications Officer Carolyn Callahan said more drivers called in sick Friday than on any other day this school year.
With this many drivers out, delays are inevitable. One longtime driver who spoke on condition of anonymity with LPM said he expected the afternoon to be "a logistical nightmare."
"Stuff will happen to make a headache for those who come into work," he said.
Callahan said so far, the district has not canceled any routes, but there are delays.
"Any changes to bus routes will be relayed to parents as they always are," Callahan said in an email to LPM.
Some drivers said even more people are planning to call in sick Monday. The day was initially a noninstructional day for students, but the Jefferson County Board of Education made Monday a school day to help make up for missed instruction at the beginning of the year.
Some drivers said that decision violated their union contract, which guarantees 184 working days.
The leader of their union, Teamsters Local Union 783, John Stovall, did not respond to a request for comment.
Callahan said JCPS' interim Chief Operations Officer Rob Fulk has been in contact with union leadership.
Asked about the possibility of the sickout Friday and Monday, Callahan sent a statement Thursday evening saying "there is no way for us to predict the credibility of the rumors."
"School will not be canceled," Callahan wrote. "Worst case scenario would be that we would cancel the bus routes of the drivers who call out of work. We hope the rumor is just that, a rumor, as we hate that it would have a negative impact on our students and families."
Support for this story was provided in part by the Jewish Heritage Fund.