Louisville Metro Council Committee backs plan to spend police reform money on HQ renovations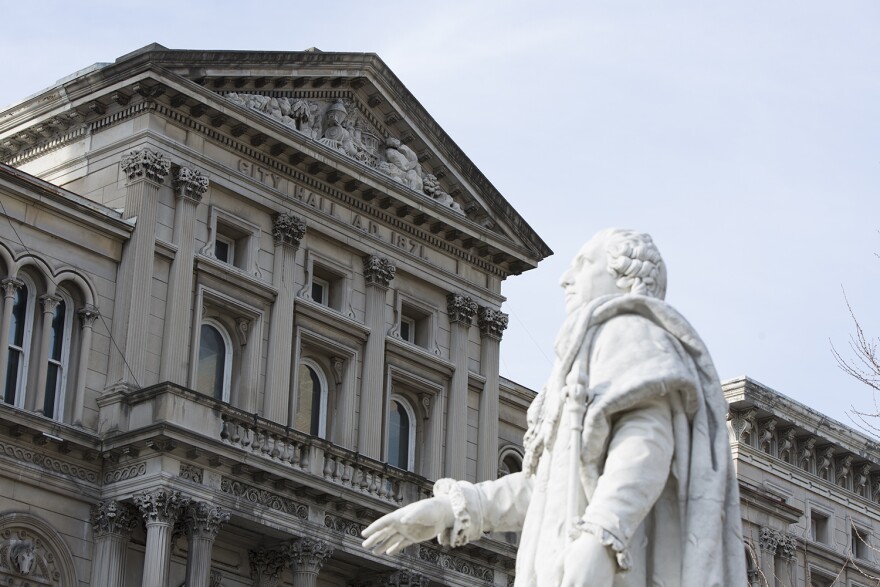 A Metro Council committee has thrown its support behind a proposal from Mayor Craig Greenberg to use federal dollars set aside for policing reform on building renovations and leasing a new "officer wellness center."
Greenberg announced his intention last month to spend more than $14 million on elevator renovations, HVAC upgrades and a roof replacement at the downtown AT&T building, which is slated to become the new police headquarters. His administration plans to spend another $1.6 million to lease a new officer wellness center in the Saint Joseph neighborhood from the Louisville Metro Police Foundation.
Funding for these projects would come from a pot of $17.5 million in COVID-19 relief funds. Metro Council set aside the money in late 2021 to fund policing reforms recommended by the Chicago-based consulting firm Hillard Heintze. The firm was hired by the city to do a top-to-bottom review of its police department after the 2020 killing of Breonna Taylor.
Louisville Metro Police Department officials acknowledged Thursday that the move is "a shift" away from the original intention for the funding. But Interim Chief Jacquelyn Gwinn-Villaroel asked Metro Council's Budget and Appropriations Committee to approve the changes.
"This headquarters will provide much needed efficiency, proper overall supervision, along with collaboration with our federal and local partners in order to move in the direction of a culture shift within LMPD," Gwinn-Villaroel said.
Police officials said the spending was justified because the recent report from the U.S. Department of Justice included a recommendation that LMPD invest in officer wellbeing and better facilities. The scathing report, which detailed numerous civil rights violations and examples of discriminatory policing by LMPD, was released after the Greenberg administration released its funding proposal.
LMPD officials said they did spend some of the money originally appropriated for reform on creating a new Accountability and Improvement Bureau, which is supposed to review training protocols and policies and make recommendations for improvement. Records provided to LPM News last month show police officials have spent less than 4% of the $17.5 million, mainly on salaries, training contracts and office supplies.
The Committee voted 7-1 in favor of advancing the plan to the full Metro Council. The 26-member body will take a final vote on the appropriation at its next meeting April 27.
Could the money be better spent?
Some Metro Council members, most of whom were not members of the Budget Committee, attended Thursday's meeting to speak in opposition to Greenberg's spending plan.
District 4 Council Member Jecorey Arthur, a Democrat, noted that Louisville Metro is expected to enter into a consent decree with the DOJ following its report. That consent decree will require LMPD to institute dozens of reforms, at a cost of up to $10 million annually.
Arthur questioned where funding for those would come from, if not from the $17.5 million Metro Council already set aside for that purpose.
"We're going to have to tap into and ask for General [Fund dollars] for it," Gwinn-Villaroel responded. "We have to make those investments."
Louisville Metro budget officials have warned that Louisville could face major funding deficits in the coming years, meaning there may be little money for reform that wouldn't require cuts elsewhere.
Some Metro Council members also questioned why the lease payments for the officer wellness center had to come from the funding set aside for reform. The wellness center is expected to include gym equipment, locker rooms and full-time mental health counselors.
Ken Hillebrand, director of the Louisville Accelerator Team, the city agency that oversees the use of federal COVID-19 relief funds, told the Committee that the city had already signed the lease for the officer wellness center two months ago. At the moment, Hillebrand said, the city is making lease payments from its regular budget.
"So, is there any reason why general funds could not continue to pay for it, and these [American Rescue Plan Act] funds go toward our community?" asked District 1 Council Member Tammy Hawkins, a Democrat.
Hillebrand said he could not answer that question.
District 7 Council Member Paula McCraney also said she believes the money already set aside for reform should be used on funding more of the 36 reform recommendations outlined by the DOJ in its report.
"We've got to do something within that DOJ report that shows our citizens that we hear them, that we understand them, and that, yes, we admit to some wrongs in the past, but we want to fix them," she said.
McCraney implored police officials to show "that you're not being selfish, that you're not wanting something first, that [community members] deserve something first."
Representatives for Black Lives Matter Louisville and the ACLU of Kentucky spoke in opposition during the Committee meeting, asking for the money to instead be spent on social services for the entire community, not just the roughly 300 people employed by LMPD.
Investing in officers
Supporters of Greenberg's spending plan argued that having officers who are physically and mentally healthy is critical to good policing.
District 26 Council Member Brent Ackerson, a Democrat, said LMPD would not become a better department without investment.
"We not only have to invest in the physical infrastructure, meaning the police headquarters, we also have to invest in these officers," Ackerson argued. "If we want quality people dealing with this community, we have to empower them to do that and that."
District 19's Anthony Piagentini, who heads Council's Republican Caucus, also supported the change in spending.
"It's just simply embarrassing that the city doesn't have a [police] headquarters," Piagentini said. "I wouldn't want to work for any organization that couldn't say, 'That's where we belong. That's where we work together. That's where we collaborate. That's where we train together'."
In addition to voting on the proposed funding for the police headquarters and wellness center, Metro Council will also be presented with Mayor Greenberg's recommended budget for 2024 on April 27. It's unclear whether his budget will include additional funding for LMPD.
Greenberg has said he'll propose more money for community programming and expanded hours at community centers across Jefferson County in order to address what he sees as the root causes of crime.
Louisville Metro officials are also headed into negotiations with the LMPD police union to hammer out a new contract for rank-and-file officers. Despite calls for greater transparency, Greenberg's administration recently signed negotiation ground rules agreeing to keep talks closed to the public and the press.