Fischer's Budget: City Will Spend More Amid Rising Pension, Health Costs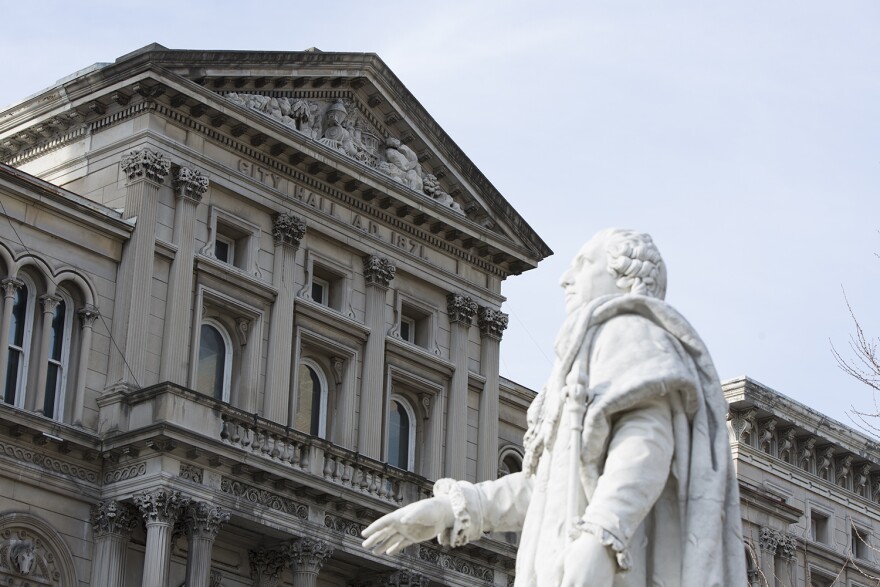 Louisville residents could see an increase in city spending for the upcoming year even as the city grapples with rising pension and health care costs.
Mayor Greg Fischer unveiled a proposed spending plan for the year on Thursday that includes additional funding for public safety, affordable housing, health, infrastructure and environmental initiatives.
"This has been a tough budget because of increases in health care and pension costs, but we have been able to maintain investments in public safety, job creation and some of our quality place efforts as well," Fischer said.
Fischer's proposed budget includes $623 million in general fund spending, an approximately $30 million increase over last year, until you factor in the increased costs of health care and pension funding requirements:



State pension reform is expected to cost the city an estimated $9.4 million over the next year. That's in addition to what the city already spends on pensions.

Louisville's employer health care costs experienced a $9.6 million increase due to rising drug prices and health claims from chronic illnesses such as obesity, diabetes and asthma.
To cope with the rising costs of health care and pensions, the city will not fill 49 positions as employees retire and resign.
"We've worked to implement cuts and reductions in a way that's fair and minimized the impact on city services," Fischer said.
Even with rising expenses, the city anticipates $26 million in new revenue allowing the city to scratch out a five percent increase in overall spending.
Fischer said that's thanks in part to the broad economic prosperity the city has seen over the last several years.
He said the city has added more than 72,000 new private sector jobs since he's come into office — that's 9,000 jobs in the last year if you compare it to the 63,000 Fischer named in last year's budget address.
Some 2,500 new businesses have opened in the last seven years, he said, and nearly $13 billion in capital has been invested in the city, including $800 million in West Louisville, since 2014.
Here are some of the highlights of the mayor's proposed budget:

Public Safety
More than half of all general fund dollars go to public safety.



$7 million for police cars, ambulances and fire trucks.

$2 milllion to fund restorative justice and youth violence prevention programs through the Office for Safe & Healthy Neighborhoods.

Funding for 43 Louisville fire recruits and 145 Louisville Metro Police Department recruits. That's more about maintaining the status quo than adding new officers, according to the mayor's staff.
Infrastructure


$22.5 million for paving roads, fixing sidewalks and creating bike lanes across the city.

$10 million for the Heritage West Track and Field Facility.

$6 million to complete a new animal shelter.

Funding to complete the construction of the Northeast Regional Library.
Affordable Housing


$10 million for the Affordable Housing Trust Fund and $2 million for Louisville CARES, a revolving loan fund program.

$750,000 as part of a continuing commitment to encourage private development and job creation in Russell – a neighborhood that has a high concentration of residential poverty.

A nearly $1 million match to leverage $3 million in federal funding for HOME, a federal block grant for affordable housing.
Health and Environment


$2.2 million in parks upgrades, maintenance and repairs.

$650,000 to help adults dealing with substance abuse disorder and/or mental illness avoid jail, emergency department visits and inpatient hospitalization through the Living Room Project.

$600,000 to plant trees to combat the urban heat island effect.
This story has been updated.