'They are not forgotten': Upkeeping Louisville's Eastern Cemetery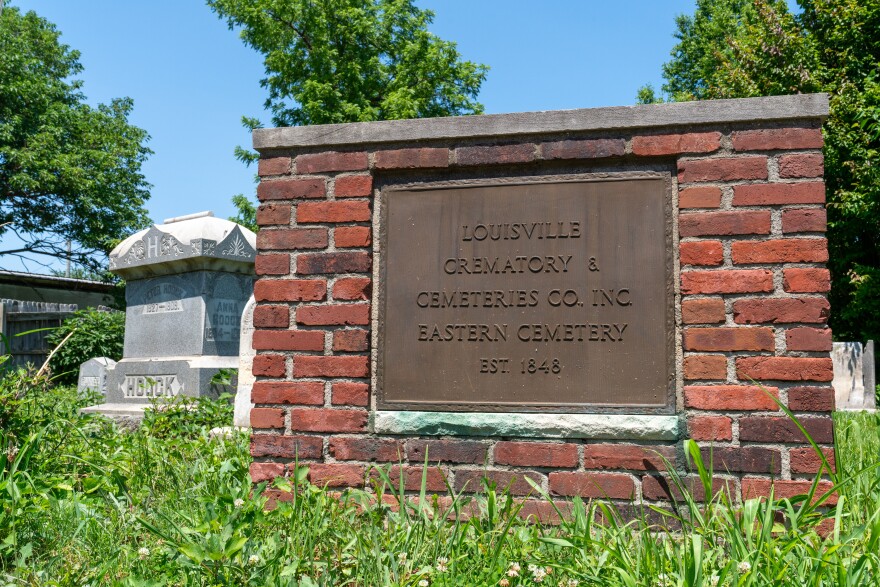 Thousands of people have been laid to rest at Eastern Cemetery, but decades of mistreatment and mismanagement have left the burial grounds in disarray. Community volunteers are working to make sure that history isn't reburied.
When Eastern Cemetery began operation in 1843, it was owned by two churches using land donated by members. At some point an organization called the Louisville Crematory and Cemeteries Co. Inc. took ownership.
According to the University of Louisville Anthropology Department graduate student and researcher Codi Goodwin, Eastern Cemetery was created when people moved away from familial grave sites.
"It was one of the first cemeteries where anyone could be buried there," Goodwin said. "There was absolutely no restrictions on who could be buried in Eastern. Where you have Cave Hill open later, there were restrictions on who can be buried there."
Affluent and influential families bought up plots at Cave Hill keeping many people with lower socioeconomic statuses and other marginalized identities out.
Eastern and Cave Hill are right next to each other. At some point, the managers of Cave Hill built a brick wall to differentiate between the two.
Because it was more accessible than other burial sites at the time, Eastern Cemetery began to fill quickly. The people running it took unethical measures to meet the demand.
"The oldest burial record that we have that is indicating they were already reusing graves was from 1854. And this cemetery opened in 1843," Goodwin said.
The practice of reburial and gravesite resales, burying bodies on top of others or moving bodies to make room for more, became commonplace at Eastern.
"Until about late 2000, like 2013 or so, there were more people buried in Eastern Cemetery than there were in Cave Hill Cemetery," Goodwin explained.
For context: Eastern Cemetery takes up a little less than 30 acres, meanwhile, Cave Hill occupies 300 acres.
The people running the cemetery went to great lengths to obscure what they were doing.
One of these techniques included giving families bushes to place next to loved ones' gravestones. The plants they chose were fast-growing. They could grow a few feet within months, changing the landscape of the cemetery and making it difficult to find grave sites.
Based on the research Goodwin has done alongside fellow graduate student Jacqui Zaczek, the cemetery's managers changed the layout to avoid getting caught.
Goodwin and Zaczek have been digitizing the cemetery's maps and records to help locate the people buried there, but it's not been an easy task.
"We actually have to make layers and rebuild maps to figure out where this person was," Goodwin said. "...We almost have to reconstruct parts of the cemetery just so someone can have a general area of where their loved one may be buried."
It wasn't until a Courier Journal article in the late 80s was released that exposed the years of corruption taking place there. The Louisville Crematory and Cemeteries Co. Inc. and a handful of its executives were indicted on 60 charges including abuse of corpses and reuse of graves.
After the indictments, Eastern Cemetery was for all intents and purposes abandoned.
With no one tending the cemetery, it fell into disarray. Grass grew several feet high, roads eroded and graves crumbled and disappeared under the growing weeds.
That's how Andy Harpole found it.
"And then it wasn't too long after that, I was watching the news one night, and I saw somebody else standing in the cemetery with a news crew saying somebody needs to do something, I yelled at the TV 'You do something, you're there!'," Harpole recalled.
He said it hit then, that he could be the person to do something, so he gathered some lawn care supplies and started mowing.
He started meeting the families of people buried at the cemetery and listening to their stories.
"...Stories of mothers, fathers, aunts, uncles, grandparents, children, a lot of times, you know, we'd be sitting around, and I'd be listening to their stories, and they start crying, and I'd start crying," he said.
Harpole said he realized the impact his work was having on those with loved ones resting at Eastern. He started recruiting on Facebook.
People showed up and have continued to do so. For 11 years now, volunteers have come to Eastern Cemetery on Sunday mornings, from Spring through the Fall to maintain the grounds the best they can.
Everyone has their own reason why. For Harold Dawson it's personal.
He has several family members buried at Eastern, and one of his uncles, the one he's named after, is buried there. He came out to check on the area he knew the family was buried in, even though some of the graves were unmarked.
That's where he saw Harpole, working on the land.
"Curiosity got to me and after I did my little chore I asked him about it I thought for somebody to be this brave and courageous to try to tackle this thing you know, that's, that's really admirable," Dawson said.
Dawson joined Friends of Eastern Cemetery to maintain his family's resting place and those of many others. It's become a family tradition for Dawson, his daughter and her kids.
His grandchildren are accustomed to spending their Sunday morning at the cemetery and then heading to his afterward for food.
Dawson's family is just a small representation of the people who have made Eastern Cemetery part of their routines.
Another one of the familiar faces among the volunteers is University of Louisville Anthropology professor Angela Storey. She'll be working with students in the coming months to speak to the family members of people buried at Eastern to record their stories.
"I got fascinated in this group of volunteers that come out every week, and sometimes multiple times a week to manage this land in the absence of anyone else caring for it," Storey said.
She ended up joining in on the Sunday volunteer sessions and has built connections with other volunteers.
"It's not easy work. There's the sense of accomplishment and pride that people feel and I think the fact that people don't have to do this, everyone's a volunteer, no one has to do this, but they want to they start getting connected to the site and they feel this responsibility to it," she said.
The treatment of past and present people at Eastern Cemetery reflects on how those individuals were valued. The over-burials at Eastern are a stark representation of the monetary value assigned to people.
The city doesn't own Eastern Cemetery. No one really does.
A spokesperson with Mayor Craig Greenberg's office said the administration is in the early stages of trying to address the issues seen at Eastern and other abandoned cemeteries.
"Currently we are working to revamp the Louisville Metro Cemetery Board to find the best way to offer support to the over 100 private abandoned cemeteries throughout Jefferson County," press secretary Kevin Trager wrote in an email.
The city has supported the addition and improvement of specific graves on the property, but volunteers say they've been the largest provider of maintenance for those plots.
Former Mayor Greg Fischer's administration worked with groups to get grave markers placed at previously unmarked resting places.
Negro League baseball player Felton Snow and the nation's first Black head of a library, Rev. Thomas Fountain Blue, finally got headstones in 2022. They were buried there decades earlier.
The city worked with the Western Louisville Free Public Branch for the design of Fountain Blue's gravestone. Like many others, it is unknown how many people he and his wife were buried above or who they were. Library staffers wanted to address that.
1
of
2
— EASTERN CEMETERY on (06-02-2023)_by J. Tyler Franklin_2.jpg
Thomas Fountain Blue and his wife waited decades to have a headstone placed at their unmarked graves. It finally happen this time last year.
J. Tyler Franklin
2
of
2
— EASTERN CEMETERY on (06-02-2023)_by J. Tyler Franklin_3.jpg
Employees from the Western Library Branch chose to engrave Fountain Blue's headstone with a message that recognized the history of abuse at Eastern Cemetery.
J. Tyler Franklin
The engraving on the new headstone sums up what groups like Friends of Eastern Cemetery and the students at the University of Louisville hope to do.
"In memory of those buried here before, they are not forgotten."
Correction: This story has been updated with the correct spelling of Angela Storey's name.