Teacher shortage front and center as lawmakers return to Frankfort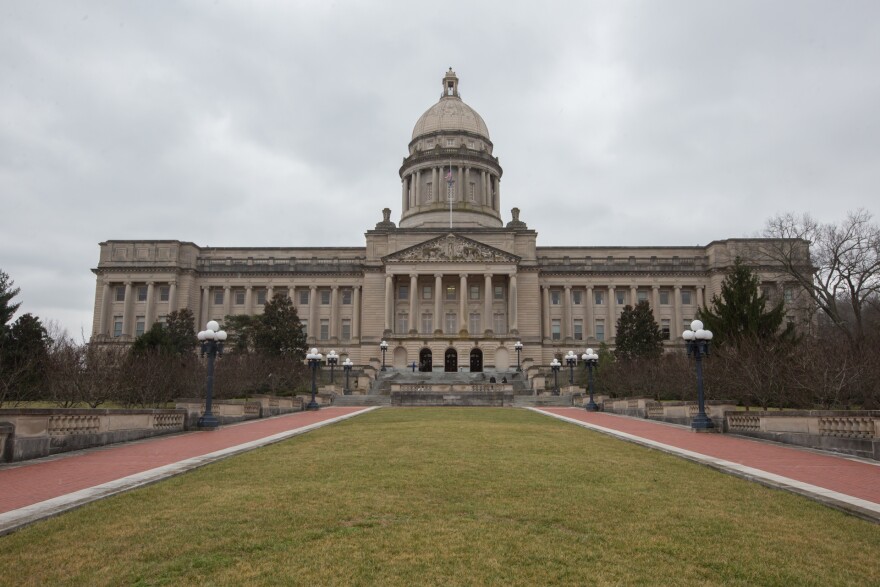 Kentucky's teacher shortage was the first topic on the agenda as state lawmakers returned to Frankfort for the second half of this year's legislative session Tuesday.
The House Education Committee heard from Kentucky's top education official, Jason Glass, along with superintendents and a Fayette County teacher.
Glass told the committee Kentucky's teacher turnover rate has consistently risen over the last five years, growing to more than 20% in the 2021-2022 school year. That's higher than the national average, which Glass says is 16%.
"While we can't be sure why so many of our teachers are leaving the classrooms, we know that they are more stressed than they have been," Glass said. He pointed to a 2022 survey of 38,000 teachersin which teachers reported higher stress, concern for colleagues and reduced job satisfaction.
Glass and superintendents told the committee that means districts are increasingly filling vacancies with teachers who have an emergency certification or alternative certification. Those teachers may not have a degree in education.
"While we appreciate those working in these emergency roles, make no mistake, these individuals are less qualified than the teachers we've had in these roles in the past," Glass said.
Fayette County Public Schools teacher Amanda Sewell said that's also fueling the increase in student discipline issues.
Sewell said those teachers may have a deep understanding of the content of lesson plans.
"But a lot of those discipline issues are coming from, you know, no background in classroom management," she said.
What's more, Glass added, schools with a majority of low-income students are twice as likely to have a teacher with emergency certification.
Glass said lawmakers can turn the tide by increasing pay and benefits, bolstering support for schools and speaking about educators with more respect.
The Kentucky Association of School Administrators presented nine "low-cost" recommendations for lawmakers to take this session.
Gov. Andy Beshear, a Democrat, led a press conference unveiling the recommendations last week. In that press conference, Beshear inaccurately claimed Kentucky has 11,000 teacher vacancies.
In the committee Tuesday, Glass said the database Beshear retrieved the number from is "not a good measure" of the number of vacancies at a single point in time.
House Education Committee Chair James Tipton, a Republican, said he's been told the real number of teacher vacancies is closer to 1,500 — but that it's still an issue.
Some Republican politicians on the committee blamed the shortage on student behavior and a "woke agenda" from the Kentucky Department of Education (KDE). This is a talking point echoing nationally amongst conservatives who are opposed to classroom discussions on race and curriculum that's inclusive of LGTBQ students.
"When I go to your website, I'm sometimes just amazed at the woke agenda there, honestly," Republican Rep. Jennifer Henson Decker said, referring to guidance from KDE encouraging educators to use students' preferred pronouns.
"I don't have any 'woke' directives from the [U.S.] Department of Education," Glass responded. "The people who are making pronouns and transgender issues and 'woke' issues a priority in our education are politicians."
Republican Rep. Shane Baker, vice chair of the House Education Committee, asked Glass if he stood behind a previous statement that teachers who don't want to use students' preferred pronouns should "find something else to do."
"I stand behind that statement," Glass answered. "A teacher who cannot execute the policies of the district, that can't execute laws in the state or in our nation — they do need to find something else to do."
Multiple educators in the committee room urged the General Assembly to change the rhetoric they use to speak about public education, including several lawmakers on the committee.
"How are students going to respect teachers if adults don't respect teachers?" said Republican Rep. Steve Riley, a retired principal.
"I've got the best job in the world," elementary school principal and Republican Rep. Timmy Truett said.
"It gives me joy in life. … I think that we as a group can change that mindset by talking more positive about education, talking more positive about teachers. So I just challenge our whole group to do that."
By the end of the day, several Republican committee members had co-filed a massive bill that touches on a hodgepodge of culture war issues.
House Bill 174 seeks to bar transgender students from restrooms and changing rooms that match their identity. It would ban teachers from having any discussion with students about sexual orientation, LGBTQ issues or "controversial topics." It also seeks to ban drag performances from school settings, and books or curriculum that discuss sexual activity.
Support for this story was provided in part by theJewish Heritage Fund.