Kennedy Bridge Closes Next Week For 6 Months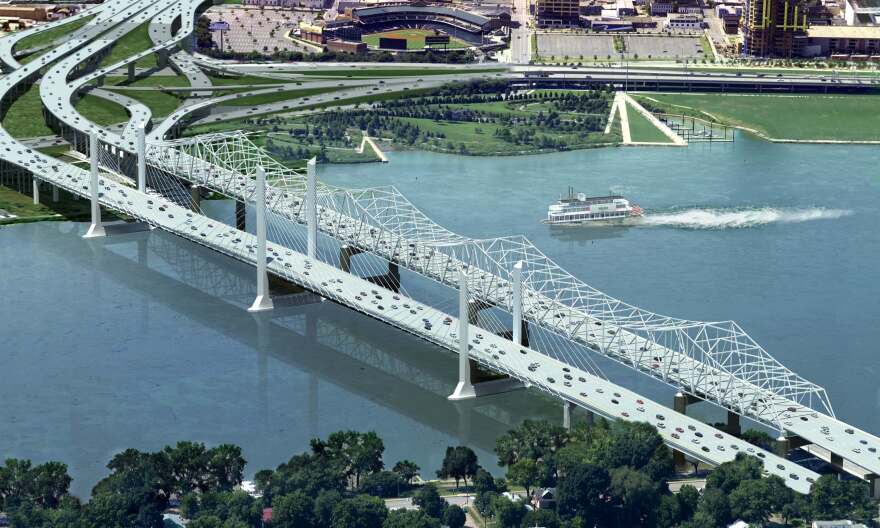 The month of two-bridge traffic across the Ohio River in Louisville is coming to an end.
The 52-year-old Kennedy Bridge closes early Tuesday for an expected six months. The bridge is currently carrying a single southbound lane to eastbound Interstate 64 and northbound I-71.
Two-way traffic on I-65 will instead cross the Ohio exclusively on the Abraham Lincoln Bridge, which opened last month after years of construction.
The Kennedy will undergo renovations. According to the Ohio River Bridges Project's Downtown Crossing, the improvements include:
A new floor system will be built on top of existing floor beams, with all new stringers, bearings and diaphragms the length of the Kennedy Bridge. Floor beams run between the two trusses that frame the bridge and support the bridge deck. Stringers are the primary vertical support members of the floor system, running with traffic. Bearings and diaphragms also help to support the floor system.
The project says the renovation is "expected to add decades of new life" for the bridge.
The work means southbound traffic on I-65 toward I-64 and northbound I-71 will be detoured for the time being. The closure will affect about 10 percent of the nearly 225,000 drivers who cross daily between Louisville and Southern Indiana, according to the project.
The full Ohio River Bridges Project is expected to be complete toward the end of the year.
The total project, includes the East End span currently under construction, is expected to cost $2.3 billion. Once the entire project is completed, tolls will be collected on the East End bridge, the Kennedy and Lincoln.