Why Being A 'Cool City' Matters As Louisville Tries To Bring Tech Jobs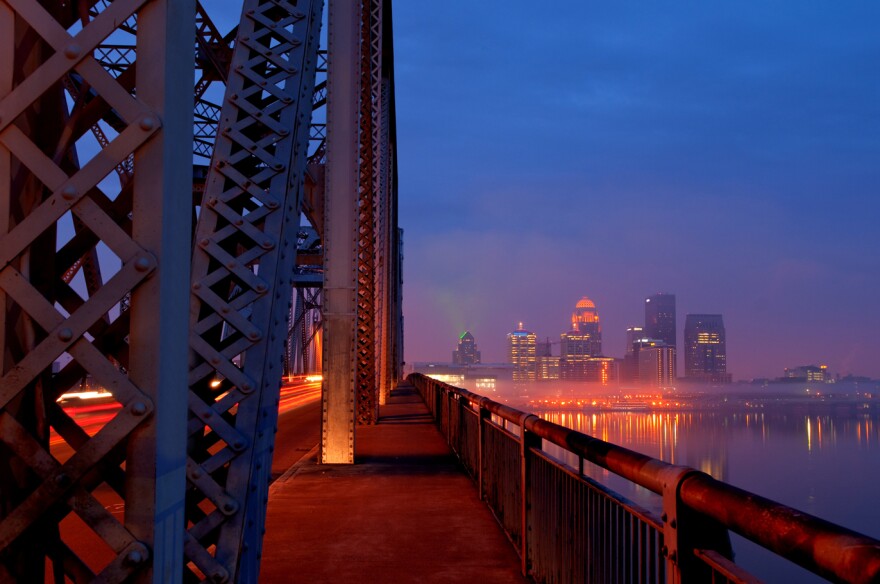 By some measures, Louisville has made recent strides toward achieving a status many cities covet: tech hub.
This spring, President Obama came here and touted the Code Louisville program, which trains people for tech jobs. And on Thursday, Louisville joined a select few cities in line for Google Fiber, a much-coveted service offering ultra-fast Internet connectivity.
But one expert who has studied the many factors that make a city tech-industry savvy says much more would need to happen for Louisville to reach the coveted status.
On Thursday, Mayor Greg Fischer said Google Fiber's possible move into Louisville is another example of his office's efforts to make the city more innovative and attractive to tech firms and startups.
"I think you all know that since the first day I came into office four-and-a-half years ago, my team and I have been working to best position our city as a thriving 21st Century city," he said during a news conference at Code Louisville's headquarters. "Part of that mission is certainly to build an economy that emphasizes technology and innovation."
Such an economy would mean more visibility for the city and more higher-paying jobs. But there's a long road ahead.
In 2013, less than 20 percent of Louisville's jobs were related to science, technology, engineering or math, ranking the city 11th among 15 peer cities, according to a 2013 Greater Louisville Project report. And there remains a gap between jobs available and the local workforce: In April, the White House said Louisville has roughly 2,000 vacant information technology positions and not enough skilled workers to fill them.
Ted Smith, Metro government's innovation chief, told WFPL News that some tech companies choose cities in part for the accessibility of fast Internet. Google Fiber would raise Louisville's profile in that category.
"I believe, and I know the mayor believes, Internet infrastructure is one of those infrastructure pieces that cities compete on — whether it's for business use or for startup dorm-room entrepreneurs," Smith said.
Jonathan Rothwell, a fellow at the Brookings Institution, said there's no recipe a city can follow for becoming a draw to tech companies and startups. But there are some key factors that hubs like Silicon Valley, Research Triangle Park, Austin, Texas, and Boulder, Colo., all have in common.
One big factor: The ability of a city to grow its own tech-savvy talent through science, technology, engineering and math education.
"Having a key research university that is putting out a large number of STEM grads is very attractive for companies, because these jobs are hard to fill," he said. "Louisville's biggest challenge is really bringing up the research and STEM capacity of the University of Louisville."
While U of L joins a long list of schools working to beef up their STEM programs, the university is still competing with those that have a long history of graduating students into technology fields, such as Stanford or -- much closer -- Vanderbilt. U of L's Speed School of Engineering was ranked 125th in the most recent U.S. News and World Report accounting of American colleges.
But improving STEM education is just one step. Infrastructure such as a good airport, efficient public transportation and nice parks are also effective in drawing in young professionals. Rothwell said Louisville is at a disadvantage by some of those metrics compared with other cities, but its affordability could be a draw.
Still, the most intangible factor that all big tech cities have in common, Rothwell said, is the "cool" factor. And that's something that happens organically.
"It's hard to orchestrate a 'cool city' from a policy perspective," he said. "What you can hope to do is take advantage of some of your strengths."
Rothwell said the bourbon industry, high-profile college sports and the Kentucky Derby have all helped raised the city's status in the past few years. But Louisville is also competing with cities that are already home to some big tech companies and have growing cache, such as Nashville.
Ultimately, though, Rothwell said Louisville is moving in the right direction.
Code Louisville experienced enrollment growth after the president's visit: One of its last classes had more than 250 students -- more than double what program creators had anticipated. That program and, if it happens, Google Fiber could be bringing the city closer to the coveted "tech hub" status.