Independent Record Shops Come Roaring Back in Louisville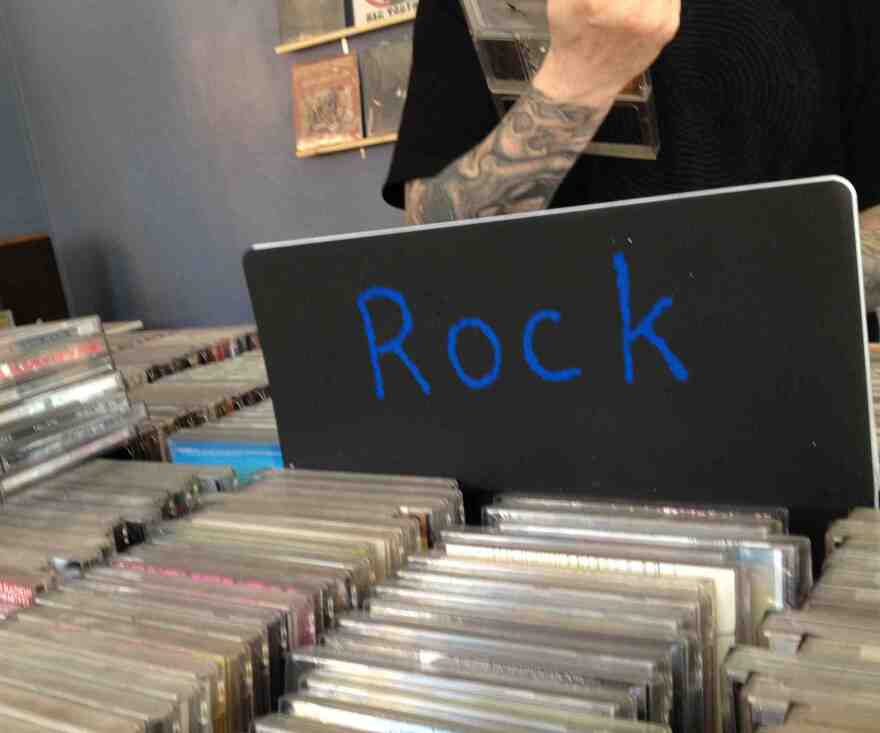 The national decline of local independent record stores hit home two years ago this week when John Timmons announced that EarX-tacywould closefor good.For years, Ear X-tacy was Louisville's hub for local music. It had the city's most expansive inventory and it was something of a clubhouse for local musicians.It's closure led to a period of grief for Louisville music shoppers. A candlelight vigil was held. But record stores are coming back in Louisville.This month, two new shops opened—on the same day, on the same street—and highlighted how brick-and-mortar record shops are enduring and evolving to meet current market demands.The differences between the past and present are scale and scope.
'More the Merrier'Sitting behind the counter, Tyler Chanley presided as a dozen customers rummaged through bins of CDs and vinyl records. Chanley worked for years at Underground Sounds on Highland Avenue and decided to branch out with a partner with his own shop on Frankfort Avenue, called Modern Cult Records."I just kind of noticed a little bit of gap in some things here in Louisville—just Louisville as a whole. And just wanted to sort of share some of the thing that I think bear value," Chanley said."A lot of heavy music, a lot of metal or hard rock. A lot of avant garde or esoterica of all sorts, be it rock or more folk or electronic or jazz. A lot of hip-hop. A whole lot of hip-hop."The concept, though not the content, was similar a half-mile west. A half-dozen guys stood in front of the also brand-new Guestroom Records talking about—you guessed it—music. Guestroom is the third location of an independent chain based in Oklahoma.Travis Searle and Lisa Foster, who is a Kentucky native, relocated to Louisville earlier this year and brought the Guestroom brand Searle co-founded with them."Historically, we kind of specialize in punk/indie/alternative kind of stuff. But we like everything, you know," Searle said. "I've been a giant metal kick for the last couple of years so we are doing more with that and people seem to be responding pretty well to it today. And I love used records." Guestroom and Modern Cult primarily sell the same products—CDs and vinyl records. They're a brisk walk apart. And they're not alone. Underground Sounds and Better Days existed before Ear X-tacy closed, and they're still around. Astro Black Records opened after Ear X-tacy's demise in a backroom of a Highlands coffeeshop—it recently expanded to a much larger space on Oak Street. Former Ear X-tacy DJ Matt Anthony has a shop in Butchertown, too.Did Louisville lose a behemoth of a shop and still end up saturated?Ear X-tacy ranked among the nation's best record shops, and it was big—10,000 square feet at its penultimate location. Timmons' shop carried something of everything—world music, jazz, obscure Louisville bands, used CDs, vinyl, magazines, T-shirts and so on. And maybe that was the problem.
"To have a one-stop shop store isn't really necessary anymore, especially with digital music and Internet sales of physical media still being really prevalent and will continue to grow," Chanley said. "I just think you have to be able a little more selective these days and just a little smarter with what you want to do."Curation is a big thing now. There's a cost to carrying a big inventory. A smaller shop can find and cater to a devoted audience, become an authority for certain types of music fans and not overwhelm the casual shopper. You got to X shop to get Y type of record, in essence.Tyler Smith grew in Louisville—and grew up shopping at Ear X-tacy. In big shops—like Amoeba Records in California, or even in Ear X-tacy—aimlessly digging through the bins for that record that catches your eye was daunting."Sometimes you can leave frustrated, you know," said Smith, who works in distribution for an independent record label in Bloomington.I don't know for certain, but the bigger is a little less inviting because it kind of harkens back to the big box stores," Smith said while browsing at Guestroom. "I feel like the smaller stores where you have more one-on-one interaction with the guys behind the counter are just more interesting."You get little niche stores. Some stores carry more cassettes. Some stores are for an older crowd that still buys CDs so they can play them in a car. Neither Modern Cult's Chanley nor Guestroom's Searle are concerned that competition down the street would hurt their changes for long-term survival."The more the merrier," Chanley said.Searle said he was excited about Modern Cult. To him, two shops within walking distance may be able to build synergy together. "It turns Frankfort into a record store district, like, in one day," he said."It doesn't seem saturated at all," said Foster, Guestroom's co-owner. "I see it as burgeoning, it's growing, it's kind of thriving. I think it makes so much sense for there to be a lot of small independent record stores, because you have so many different kind of vibrant communities."Searle added: "Every single record store in the country operates differently. Our stores in Oklahoma are different from each other and different from what this one is turning into. Every store has its own stamp and does something particularly well and some things lesser, and we're not different from that."On its opening day earlier in October, Modern Cult had a DJ on its back porch. Searle said he thinks Guestroom likely will start doing in-store performances, too—one of the perks for Louisville from the Ear X-tacy days.Louisville's record shop additions may also reflect geographic shifts for where people want to buy music. In recent years, shops were Bardstown Road-centric. Now there are shops in Butchertown, East Market, Clifton and Germantown. See below:In the graphic, the purple markers were Ear X-tacy's last two locations and the yellow markers are shops that existed before Ear X-tacy closed in 2011. The red markers are shops that have opened since. And let us knowif we're missing a shop that sells new music.Listen:'What's New and Good?'Together, Guestroom and Modern Cult would fit inside the old Ear X-tacy near Eastern Parkway.Louisville musician Jake Philley browses through the Guestroom bins. He notes the small world music section—and that Ear X-tacy's world music section was much, much bigger.
Philley said he won't mind going to Underground Sounds for vinyl, Guestroom for newer indie albums or Astro Black for underground music that's "not necessarily for everybody.""I can walk into here or AstroBlack and with no idea what I want and, at AstroBlack, just be like, 'Hey, Jim, what's new and good?' And he'll knows what I'll like and he'll pull it off the shelf and be like, 'Buy this.' I love that, and I go home and listen to it and it's always good."The shop owners and customers I talked to on grand opening(s) day argue that record shops still have value, even if practically any piece of recorded music can be bought online. Brick and mortar shops are for connecting with other music fans, for browsing and discovering new music, they said.And if Louisville's record shops have a personality and a niche, they'll have a shot of enduring.Count Ear X-tacy's John Timmons among the believers."That's exactly how I started," said Timmons, now a DJ for WFPK, one of WFPL's sister stations."I started in a really tiny space with a very select selection of music, if you will. It was geared towards kids, mostly rock 'n' roll, mostly imports from overseas. Things you couldn't find in the mall record stores or the chain record stores."Gradually, Ear X-tacy got bigger, carried more and more titles. The bigger, expansive approach worked until it didn't anymore.Digital music, changing tastes and lease issues were culprits in Ear X-tacy's demise, Timmons said. Customers—and the music industry, for a while—moved toward wanting singles instead of albums. And a shop that carried a little or a lot was no longer financially feasible.Nearly two years after closing Ear X-tacy's final location for the last time, people talk to Timmons about Ear X-tacy and how much they miss it.Timmons misses it, too."I kind of miss being able to go to one spot and find everything I want, but that doesn't seem to be as important to a lot of folks as it is to me," he said.Timmons said he's fine now being a record shopper instead of a shop owner and doesn't imagine he'll ever open another record store.He's encouraged that new shops are opening and expanding."That just tells me there's definitely niches to be filled out there and hopefully they can carry on the tradition," Timmons said."It's really encouraging that another generation is coming along that is going to continue on the physical format, which I honestly believe is never going to go away. Of course, I've been wrong before, but I just think there's always going to be that need for the physical format."