1 Part Improv + 1 Part Shakespeare = Late Night Shakes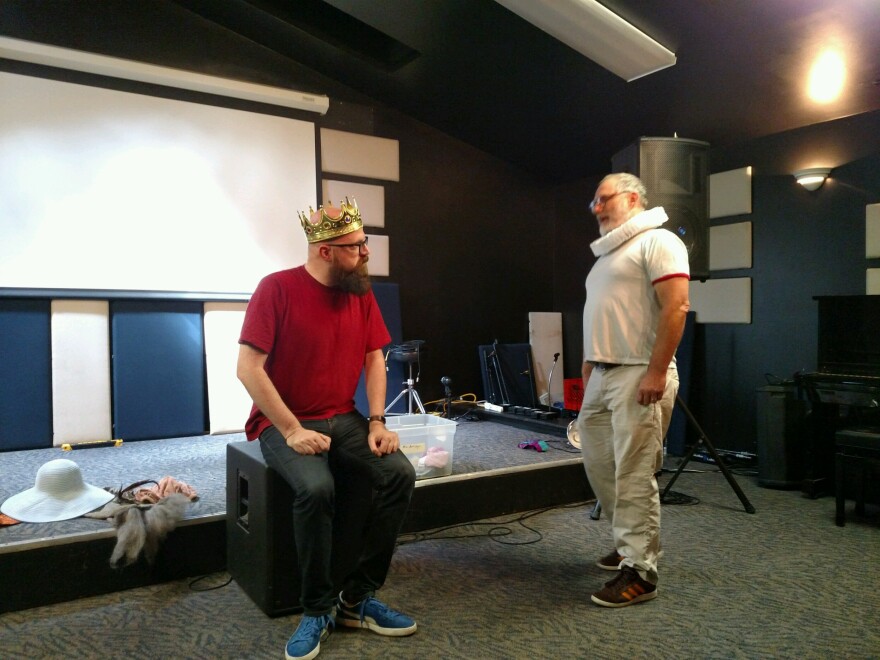 Alec Volz walks briskly in front of an imaginary audience, pausing only to state: "Act 1, Scene 1 — The Meadow, Night." He spins on his heel, turning to face actor Brian Hinds and assumes character.
"Prithee, good Marcellus," Volz says. "Hast thou come up with the drugs thou needest?"
"That I needest, indeed I have," Hinds replies.
It reads kinda like Shakespeare, right?
That's the idea of the Louisville Improvisors' "Late Night Shakes." Company members Volz, Hinds and Chris Anger take the basics of improv, apply them to some Shakespearean tropes and come up with a production right on the spot.
It starts with a three-word prompt: an occupation, a gerund (quick grammar refresher: that's an action verb that ends in "i-n-g") and a world city. The result is something like this: "Ladies and gentlemen, we have William Shakespeare's lesser-known work, 'The Wandering Physician of Helsinki!'"
For the next 30 minutes — using the basic improv technique of "yes, and..." — the Improvisors weave together the story of an aged king whose son disappears to become a wandering physician. He moves from small town to small town to aid the sick, all while ignoring his own status as next-in-line to take over the throne.
It's full of twists and turns, some of which seem a little far-fetched, like when the king finds out the court jester, Jingles, is actually his other son. But when you think about it, a lot of Shakespeare is pretty far-fetched. There's the sculpture who is actually the king's dead wife in "Winters Tale," all the magic in "Midsummer Night's Dream," or even Hamlet's ghost-dad.
That actually frees up the Improvisors in some unique ways. For example, in traditional improv it's bad form to kill off your fellow performers.
"But it works in Shakespeare," Anger says. "You can be a ghost, you can be his twin brother, someone needs to be avenged."
Regardless of what direction the play takes, the Improvisors make sure to ground it in actual Shakespeare. Before every practice, they run scenes from the real plays.
"It gets you thinking in the rhythms," Volz says. "Finding the words that are used and how his sentences are constructed."
And for Hinds, working through Shakespearean improv has been helpful in a unique way; he's also a cast member in this year's production of "Julius Caesar." He says improv has changed how he engages with the text.
"Things like truly being in the moment," Hinds says. "What's your relationship to this character you're with? What do I want from this character and what words do I say to get it?"
You can catch the Louisville Improvisors' "Late Night Shakes" four times during the Kentucky Shakespeare season. The first opportunity is Saturday night after "Much Ado About Nothing."