Commentary: Why Not Consolidate Kentucky's Colleges and Universities?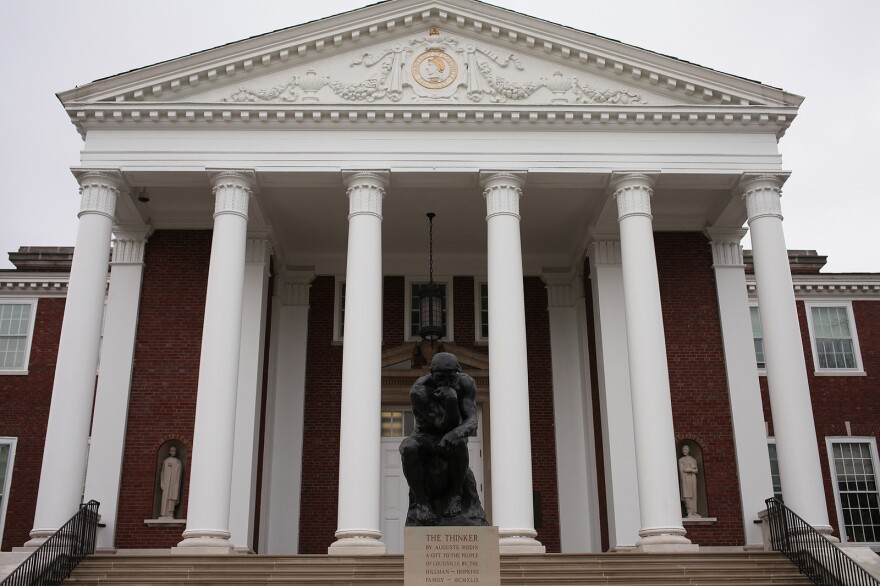 This has been a week for the Chicken Littles in Frankfort to cluck about the sky falling as a result of the 9 percent budget cuts recommended by Gov. Matt Bevin.
Having watched the fiscal politics of the Bluegrass State for nearly a half century, it's my view that there is much to be encouraged by in his budget document.
To begin with, the governor held the line on funding for elementary and secondary education. Other than early childhood education, these are the primary lines of action for creating a stronger, better-prepared Kentucky in generations to come. All research shows this. And while one would wish the funding for elementary and secondary education had increased substantially, this is a signal of the importance Bevin places on the fundamentals for our children.
Second, he called for increasing the number of public defenders in the commonwealth. This is hardly a right-wing knee-jerk position. Public defenders do the Lord's work, representing those in court who have neither the means nor the support system to seek adequate counsel in criminal cases. For years as an editor at The Courier-Journal, I heard the earnest pleas of Jefferson County's veteran PD, Dan Goyette, who too often has come up empty-handed when governors spread the wealth in Frankfort.
In the same regard, giving raises to social workers, surely among the least-respected and hardest-working professionals, is a step that can lead to better services for those who have emotional, familial, work-related and other issues.
These are not small matters, and Bevin deserves praise for focusing on them.
As for the cuts for higher education, I think it is possible to see these as an opportunity, not a curse. To be sure, higher education has taken it on the chin in each budget since the beginning of the Great Recession nearly a decade ago. The eight public universities have found different ways to cope with these funding decreases, but all too often the brunt of the financial burden has been shifted to the students.
Here in Louisville, where during the same period we have witnessed corruption, criminal activity, administrative sloppiness and insensitivity, the case for higher education funding becomes even more complex, and difficult. Recently in The Courier-Journal, former University of Louisville archivist and historian William J. Morison wrote a powerful indictment of President James Ramsey's tenure, calling for his department to permit a sweeping cleanup on Belknap Campus.
Like Professor Morison, who taught me American intellectual history back in the Nixon era, I've been around U of L a long time. I enrolled there in the fall of 1969, the last year in which the institution was a semi-private, municipal university. Already the wheels were in motion then for the state to integrate U of L into the public system, a step that was a great blessing for the shabby but proud Louisville institution. U of L was so broke in those days that professors did double duty as janitors, even washing up the restrooms.
It was a Republican governor, Louie B. Nunn, who was among the leaders who pushed for the integration of U of L into the state system. Mr. Nunn, who can be recalled as one of the most forward-thinking governors of the 20th Century, also made his mark by expanding state services for the mentally ill and disabled, improving infrastructure and (horror of horrors!) raising the sales tax by one cent. For that act of statesmanship, he was penalized for the rest of his political career and never again elected to public office.
Move the calendar forward nearly 50 years, and a new Republican governor, it seems to me, has an opportunity to achieve similar reform that will benefit generations of students to come. It's high time that the structure of the entire state system of higher education – from community colleges to professional schools – be seriously reviewed with an eye for consolidation, cost-savings and academic improvement.
There are all sorts of questions to be asked. Is the rivalry between U of L's medical school and UK's of value to the state and most of all to its citizens who rely on the schools for health care services? The recent mud bath between U of L, Norton Healthcare and Kosair Children's Hospital is ample evidence that the current system is a mess. Nobody gained in that exercise in legal bullyboy tactics. Could U of L and UK somehow combine their medical education and services in the way that Indiana University and Purdue have effectively done?
What about the law schools? From the moment it was suggested that a mediocre night school in Covington be incorporated into Northern Kentucky University, many have scratched their heads over the reasoning other than politics.
My modest proposal is that Bevin convene a blue-ribbon panel with the mission of reviewing all of this and more and come up with a 21st Century plan to save money, lower tuition, improve academics and reduce waste, fraud and abuse. There are many able candidates for leadership of such a panel, but I have my own suggestions:



Louisville banker J. David Grissom, who was an outstanding member of the old higher education panel in the 1970s and 1980s.

Former Lt. Gov. Crit Luallen, who is respected by both parties and has achieved a record of distinction in two terms as state auditor.

Pat Mulloy, Louisville businessman and former state budget director.

Richard Wilson of Frankfort, retired higher education reporter for The Courier-Journal, who watched the creation of the higher education maze we have today and could be a valuable guide to reshape it.
There are many other able people. But the key thing is timing. There may not be opportunity for reform quite like this in many years to come. Seize the moment, Bevin, and you may have an opportunity to bring about true change and improvement for higher education.
Keith Runyon is a longtime Louisville journalist and former editorial page editor for The Courier-Journal.
WFPL publishes commentaries on Fridays. Read more.