When the Ohio River Last Froze Over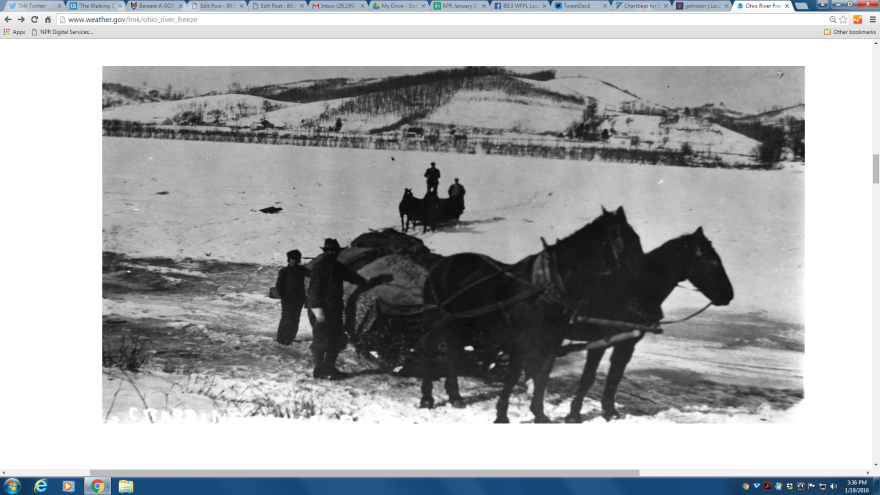 The inches of snow forecast for this week are the surest sign that winter has arrived in Louisville. But there's a rarer milestone that may epitomize a serious, deep winter in the city — when the Ohio River completely freezes over.
The phenomenon hasn't happened in over three decades and it won't happen this week. But with winter weather really just taking its first foothold in Louisville this year, the frozen river effect is worth keeping in mind.
The last time the Ohio River froze over was during the winters of 1976-1977 and 1977-1978, which were a couple of the coldest winters on record for Kentucky.
There were 28 days with negative-zero degree temperatures and a recorded temperature of negative-25 degrees, according to the National Weather Service. It's believed the ice on the Ohio River was 12 inches thick.
With the National Weather Service forecasting winter storms on Wednesday and Friday, could the river freeze over again?
Brian Schoettmer, meteorologist with the Louisville office of NWS, said there needs to be several below-freezing days in a row for the river to freeze over.
"To get a large body of water like that to freeze over, especially with the river having moving water, you need a prolonged period of cold," he said.
The temperature is supposed to reach just above freezing on several days over the next week, according to the National Weather Service in Louisville.
It's very rare for large bodies of water found at much lower elevations like the Ohio River to freeze, according to NWS. The earliest freezing of the Ohio River is thought to be in 1856 when Margaret Garner walked across the river to Cincinnati to escape slavery in Boone County, Kentucky.
The next time the river froze would be between December 1917 and January 1918. Temperatures averaged 28.6 degrees and there was three feet of snow the first month of the year.
The river froze over its entire length until January 30, 1918.
Schoettmer said this winter in Louisville has started out mild and wet, and the city just recently experienced a drop in temperatures.
He said radars aren't showing a prolonged period of cold that would cause the river to freeze over.
The more pressing concern for Louisville will be the snow expected this week. He said Louisville residents should expect two inches of snow Wednesday. Motorists should allow extra travel time in the morning because roads will be slick.
(Image via the National Weather Service)