Mitch McConnell 'Extraordinarily Helpful' in SCOTUS Ruling Eliminating Overall Campaign Gift Limits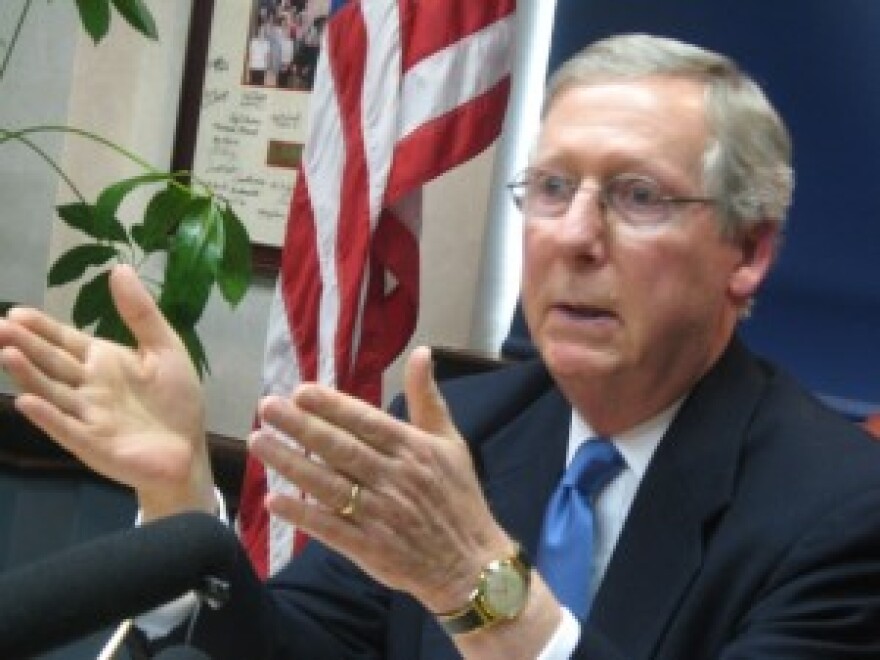 Republican Senator Mitch McConnell of Kentucky was "extraordinarily helpful" in the Supreme Court case overturning overall campaign gift limits, according to the lead attorney for the plaintiff in the groundbreaking case, which is likely to pour even more money into U.S. elections.
In a 5-4 decision Wednesday, the high court found that government regulations on aggregate contributions violate the First Amendment rights of donors.It essentially eliminates the $123,000 cap, which is how much contributors can give to multiple candidates and political action committees in total.Read the justice's majority and dissenting opinions here.The case was brought by Alabama businessman Shaun McCutcheon, who dished out hundreds of thousand of dollars to Republican candidates and conservative groups during the last election cycle.Last fall, McConnellfiled an amicus brief on the McCutcheon v. FEC caseas a part of his continued crusade against campaign finance reform.McCutcheon's legal team told WFPL it's rare for the justices to hear oral argument from an amicus, but it speaks to the senator's strong argument."The senator understands that your rights belong to you and they're not given to you by the government," says attorney Dan Backer, who was McCutcheon's lead counsel. "He has been a real champion and hero on that. His involvement, I think, brought a whole new perspective to the legal arguments and we were very excited and very supportive of his position being argued at the court."Those for and against the ruling point out the decision didn't touch the $2,600 limit on the amount of a gift a donor can give to a single, individual candidate.In that regard, McConnell's legal argument went further than what McCutcheon and his attorneys were seeking.The GOP leader's legal brief asked the court to revisit the question of political contribution caps. Liberal critics argued McConnell was seeking to allow an unlimited amount to be given to candidates much in the same way super PACs are allowed to collect.McConnell's view was also echoed by Justice Clarence Thomas in the majority opinion, but was not McCutcheon's aim then or now."Shaun understands why we have base limits and he understands what they're there for and he never really wanted to challenge those at all," says Backer. "He just thought the aggregate limits don't make any sense. I would not expect him to be challenging those. I don't think it's something he sees is a problem."The winners are expected to be state parties and joint fundraising committees. For the latter, in particular, it means committees can split checks from big donors who can now "max out" on contributions in a calendar year.Campaign finance reform advocates on both sides of the aisle—Republican Senator John McCain of Arizona to be exact—are decrying the decision. But even those who have been trying to reign in political spending doubt lawmakers can do much at this moment."This is in some respects as worse day than Citizens United," says Democratic Congressman John Yarmuth, who also filed an amicus brief to the McCutcheon case. "What this does is allow huge amounts of money to be funneled directly into campaigns. It is a much more direct connection between the contributor and the member of Congress, so the obligation is much stronger."Yarmuth is doubtful Republican lawmakers will want to act to counteract the decision, saying the Roberts Court has given wealthy donors even greater sway in the country's political process.But advocacy groups reacting to the decision were quick to pounce on suggestions that the McCutcheon case could lead to efforts to eliminate limits for individual candidates."I disagree with the interpretation of today's decision as eliminating any legal basis or foundation of the base limits you can give directly to a candidate or a party," says Paul Ryan, senior counsel at the Washington, D.C.-based Campaign Legal Center."Senator McConnell has been making these arguments for decades. But Chief Justice Robert was careful in spelling out that those limits do prevent corruption. In that respect, today's decisions reaffirms that validity. I hope Sen. McConnell's argument doesn't pick up any more traction."According to federal election finance records, McCutcheon gave over $1,200 towards McConnell's re-election campaign last June.