Republicans file bill to allow state funding of private K-12 schools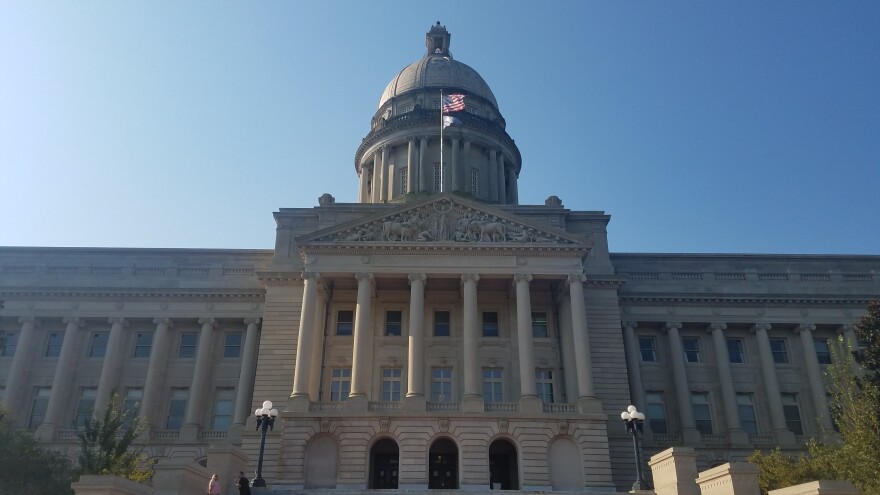 A group of Republican lawmakers want to change Kentucky's constitution and remove a roadblock in their efforts to fund private and religious K-12 schools.
HB 174, filed by Irvington Republican Rep. Josh Calloway and 16 other GOP co-sponsors, would add a provision to the Kentucky constitution stating that "the General Assembly may provide for the educational costs of students outside of the system of common schools."
"Common schools" is the constitution's language for public schools.
Republican-led efforts to create state support for private K-12 schools have been thwarted in recent years by sections of the state constitution, one of which states, "No sum shall be raised or collected for education other than in common schools until the question of taxation is submitted to the legal voters." That provision, from Section 184, means the state can support private schools, but only after voters approve of the expenditure in a referendum.
"The courts will not allow us to give public dollars to private education," Calloway said. "We need to go ahead and have to change the constitution to do so."
TheKentucky Supreme Court ruled unanimously in December that a tax-credit scholarship program supporting private schools was illegal because it ran afoul of Section 184. The plaintiffs who challenged the program, Council for Better Education, are drawing on the same constitutional provision in theirlatest challenge against a new charter school funding law.
Under Calloway's bill, new language would prevent sections 183, 184, 186, and 189 from being interpreted to prevent public funding of private education. Those sections require the General Assembly to create and maintain an "efficient" system of public schools, and prevent the General Assembly from spending funds raised for public education on private or religious schools.
Public funding for private schools and charter schools is controversial. Calloway and other proponents often say such programs promote "school choice" and make it easier for some middle and low-income families to afford private school tuition.
"We've funded these massive systems," Calloway told LPM News. "We have to fund students, and so it's for every child — if they need public schools, if they need private school, if they need tutoring, if they need some type of special education — that they are able to get every bit of education they need to be successful."
Opponents say such programs drain much-needed resources from cash-strapped public schools.
The Kentucky Education Association, the state's teachers' union, sent an emailed statement saying the KEA "adamantly opposes" HB 174.
"This bill is yet another attempt to strip funds from our already underfunded public schools to divert public tax dollars to private schools that are not required to be held to the same standards, regulations, and transparency for the use of public tax dollars as our public schools," the statement sent by spokesperson David Patterson reads.
House Majority Whip Jason Nemes, of Louisville, called the measure a "priority" for House Republicans. But it's unlikely to pick up support from any Democrats. It could also face pushback from rural GOP lawmakers, who worry that the shifting of students and funds to private entities would have an outsized impact on small rural school districts.
If the measure were to pass the General Assembly, it would have to be ratified by voters statewide in order to become law.
Divya Karthikeyan contributed reporting to this story.
Support for this story was provided in part by theJewish Heritage Fund.