Officer from Breonna Taylor raid faces another criminal trial, this time in federal court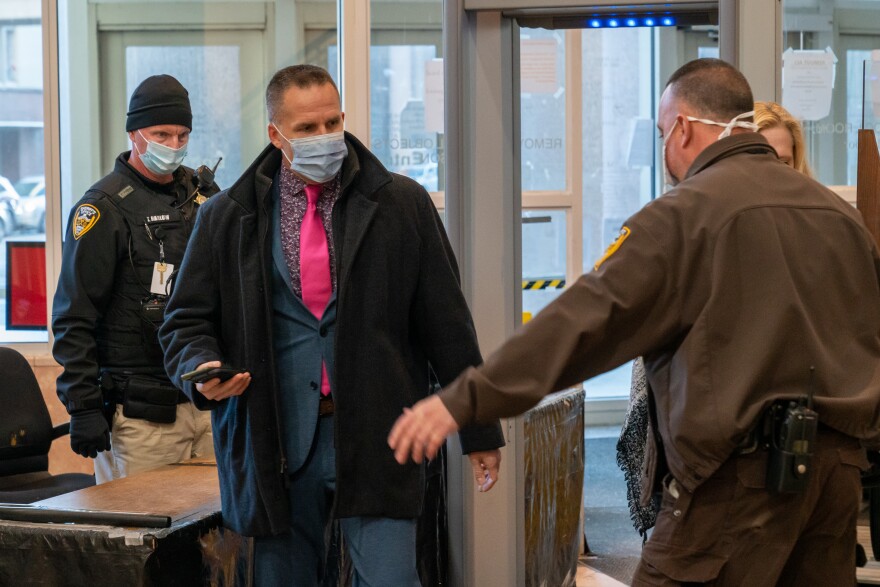 Former Louisville Metro Police Department detective Brett Hankison is facing another criminal trial over his role in the deadly 2020 raid on Breonna Taylor's home. Jury selection in the federal case against Hankison starts Monday.
Hankison was one of seven officers present at the middle-of-the-night raid, in which officers shot and killed the 26-year-old emergency room technician. One of the officers, Sgt. Jonathan Mattingly, was shot in the leg while trying to serve the search warrant. During the exchange of gunfire between officers and Taylor's boyfriend, Kenneth Walker, Hankison shot through a covered window and sliding glass door. Some of his bullets landed in an occupied neighboring apartment.
LMPD fired him in June 2020, in the midst of widespread protests over Taylor's killing and a lack of police accountability.
Last year, the U.S. Department of Justice charged Hankison with two counts of deprivation of rights under the color of law. Prosecutors say Hankison fired blindly into the apartment, using deadly force when "there was no longer a lawful objective."
Kristen Clarke, assistant attorney general for civil rights with the DOJ, said when announcing the charges that Hankison wrongfully endangered people's lives.
"Community safety dictates that police officers use their weapons only when necessary to defend their own lives or the lives of others and even then, that they must do so with great care and caution," Clarke said.
The DOJ said at the time that the civil rights violations could carry sentences of life in prison "where the violation results in death or involves an attempt to kill."
A second trial for Hankison
Hankison previously succeeded in defending himself against similar charges in state court.
In that case, he was charged with felony wanton endangerment for showing "extreme indifference to human life" when he fired into the occupied apartment unit. Hankison faced three counts, one for each of the people who were in that apartment. The trial was connected to Taylor, but the state didn't charge any of the officers involved in the raid directly with her death.
Hankison was ultimately acquitted by a jury of the state-level charges in March 2022.
After the judge read the ruling in the courtroom, Hankison's attorney, Stew Mathews, said, "justice was done."
"The jury felt like, when you go out and perform your duty and your brother officer gets shot, you have the right to defend yourself," Mathews said.
Hankison is facing similar charges this time around, because they don't violate the U.S. Constitution's prohibition on double jeopardy, University of Louisville law professor Russell L. Weaver said.
He said the U.S. Supreme Court has ruled that in most cases, it's not unconstitutional for two jurisdictions — such as two different states, or a state and the federal government — to charge someone for the same conduct. It's called the dual-sovereignty doctrine.
"The whole idea is that they're different sovereigns and they're not bound by what another sovereign did," Weaver said.
In other words, the state and federal government are two different entities that make their own laws. An illegal act by a single person can be a crime against the U.S. government and a crime against a state government.
This doctrine does not apply, however, to someone charged with the same crime under a local ordinance and a state law. That's because local governments are considered subunits, or the creation of, their respective states.
What comes next?
Jury selection is set to begin Monday morning. Prospective jurors for the Hankison case will fill out questionnaires, the questions of which are sealed. The point of this stage is to weed out people with biases or conflicts of interest that would impair their ability to make a fair decision of guilt or innocence.
U.S. District Court Judge Rebecca Grady Jennings, who will preside over the trial, issued a set of rules last week for how the trial would proceed.
During jury selection, the judge and attorneys will ask potential jurors questions and decide who to send home. No one will be allowed in the courtroom gallery for that, including members of the public, media and friends and family members of the victims or the defendant.
Anyone will be allowed to observe the trial itself, with limited seating in the courtroom and two overflow courtrooms with live video and audio feeds. Members of the media and the public will not be allowed to record the trial or take photos.
There's currently no timeline for how long jury selection will take or when the actual trial will begin.
Criminal trials in federal court are similar to state courts: They start with opening statements from prosecutors and the accused, then move on to witnesses and evidence. The trial will end with closing arguments from attorneys, followed by jury deliberation.
Jennings recently approved a request from Hankison's attorneys that jurors be allowed to travel to Taylor's apartment on Springfield Drive and view the "exterior portions" of the building. Jurors took a similar trip in the 2022 state case against Hankison.
Jennings has said during recent hearings that the trial could last two to four weeks.