Louisville Organizations Awarded 14 'Art Meets Activism' Grants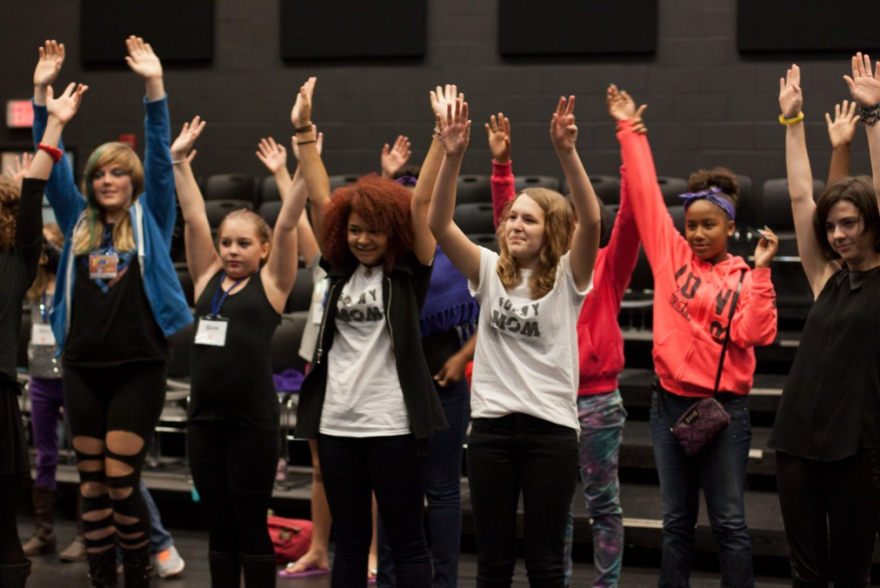 The Kentucky Foundation for Women has awarded 28 Art Meets Activism (AMA) grants totaling over $120,000 to artists and arts institutions from across the state. Louisville-based organizations received 14 of these awards, totaling nearly $60,000.
Jenrose Fitzgerald is the grants program manager for the Foundation, which is a member of the Women's Funding Network.
"The Art Meets Activism grant supports feminist artists and organizations in Kentucky that engage individuals and communities in art making that directly advances positive social change," Fitzgerald says.
Carrie Neumeyer is the co-founder of Girls Rock Louisville, one of the grant recipients. She says that the organization will use the money to cover costs for a week-long music camp for girls and gender nonconforming youth aged 10-18.
"Over 50 percent of our campers are coming in for free or for reduced tuition," Neumeyer says. "We are totally ecstatic to have been given this support from the Kentucky Foundation for Women, especially since we are an entirely volunteer-run organization."
Among the Louisville projects funded by the grants:
Americana Community Center: $2,875 to engage 20 refugee middle and high school girls in a creativity and self-expression workshop culminating in an exhibit to display their work and share their stories.
ArtThrust: $5,250 to develop a program that engages LGBTQIA youth in paper-making and sculpture forms as a means of healing and creative expression.
Athena's Sisters: $4,000 to engage veteran women in a six-month fiber art program and to create an exhibit titled "Fibers of Athena."
Bobbi Buchanan: $5,030 to collaborate with Color Your City to pilot the Community Arts Mentoring Program (CAMP) for young women in rural areas south of Louisville, culminating in an anthology and reading where participants can share their work.
Family Scholar House: $4,500 to provide workshops that encourage student-mothers to tap into their own creativity to tell and be proud of their own stories of strength, loss, love, and hope.
Marilyn Holmes: $2,912 to support a retreat, workshop, and group exhibition for women of color enrolled in the state's post-secondary institutions, as well as a series of collaborative workshops and an exhibit organized by these artists to engage girls attending Frederick Law Olmsted South Middle School.
Steam Exchange: $7,408 to work with local artists and young people to engage residents of Smoketown and Shelby Park in dialogue about changes taking place in their communities, and to create a series of collaborative screen prints based on those conversations to be displayed in two large-scale installations.
A complete list of grant recipients is available here.