A Kentucky Governor From Jefferson County? It Could Happen For the First Time Since 1955.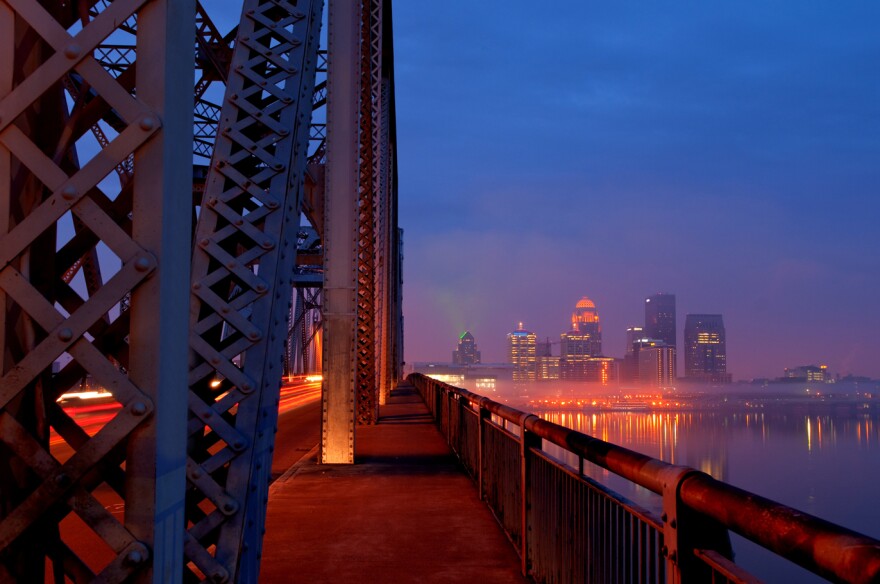 Louisvillians don't get to be governor.
Like the Chicago Cubs' century-long failure to win the World Series, Kentucky's rejection of gubernatorial candidates born in Louisville has been absolute.
But this could be the year.
Democrats are lining up behind Attorney General Jack Conway, a born-and-raised Louisvillian, and two of the three Republican frontrunners—former Louisville Metro Councilman Hal Heiner and businessman Matt Bevin—work and live in the River City.
The most recent polls show the Republican primary as a virtual three-way tie between Bevin, Heiner and Agriculture Commissioner James Comer. Comer is the only one of the three who doesn't call Louisville home.
If Conway wins the Democratic nomination as expected and Bevin or Heiner prevail for the Republicans, then Louisville is all but assured its first governor since the mid-1950s. Why the drought in governors from Louisville?
An anti-Louisville bias in the rest of Kentucky dates back to the inception of the city and state, when Louisville grew as an urban trade center that attracted immigrants from other countries. The rivalry hinges on age-old issues of urban versus rural, north versus south, liberal versus conservative--and even the Louisville Cardinals versus the Kentucky Wildcats.
If the general election has two people from Louisville on the ballot, fewer voters will participate, said Al Cross, the director of the Institute for Rural Journalism and Community Issues at the University of Kentucky.
"The turnout will be somewhat depressed in the rest of Kentucky because both of the candidates are from Louisville," Cross said.
Despite being Kentucky's second-most populous city, Lexington does not experience as much of the ire from rural Kentucky.
"Lexington was the center of the horse industry and slave trade. It was very much Southern-oriented; it didn't have the influx of German and other European immigrants after the 1820s that Louisville did. And it's just more like the rest of the state in terms of its Southern attitude," Cross said.
Heiner said he hasn't experienced much anti-Louisville sentiment on the campaign trail, but he expected it.
"I thought I would hear about that on the trail, quite frankly. Even though I live on a corn and soybean farm in Jefferson County, it'd be, 'Well, that's Jefferson County,' but that hasn't been the case," Heiner said.
Heiner and Bevin were not born in Louisville, meaning if elected they would join Augustus Willson and Lawrence Wetherby as the only governors who lived or worked in Jefferson County when they ran for office.
Willson was elected in 1907. Wetherby, a lieutenant governor during Gov. Earle Clements' tenure, took office in 1950 when Clements became a U.S. senator. Wetherby was born in Middletown—in Jefferson County, but long before city-county merger would've also made him a Louisvillian.
In his successful 1951 campaign, Wetherby downplayed his connection to Louisville despite working as a judge in the city.
"And in that campaign he emphasized that he was from Middletown, thank you very much, not Louisville, knowing that there was a Louisville bias," says Cross.
Heiner and Bevin similarly downplay their Louisville connection, listing their campaign headquarters in—you guessed it—Middletown.
If either Heiner or Bevin receive the Republican nomination, Kentuckians can be nearly certain that the state's next governor will be a Louisville resident.
But if Agriculture Commissioner James Comer gets the nomination, the election could end up with more rural people looking into the candidate from the Western Kentucky town of Tompkinsville, population 2,000.
"If it's Conway versus Comer, then you really have a rural versus urban contest," Cross said.